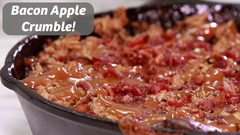 This week it got much colder in Iowa and, as is tradition with the seasons changing, I am also getting over a cold! Luckily, I filmed this last week before I was feeling ill and the whole office gave it a try. Though it was met with some cautious bites, the whole thing ended up being eaten the next day, so it has to be pretty good. Not to mention, this is perfect with vanilla ice cream... Man, if my head wasn't as stuffed I'd go home and make it now! But, such is life.
Click the video below to see how I made this or keep scrolling for the full recipe!
Ingredients
1 package Midamar Breakfast Beef (Bacon)
1 1/2 cup quick oats
1/4 cup flour
1/4 cup light brown sugar
3/4 tsp cinnamon (or more if you like cinnamon)
1/4 tsp nutmeg
1/4 tsp salt
3 Tbsp bacon bits
1 stick cold butter, cut into small pieces
6 *small* apples (or 4 large ones, 2 granny smith and 2 fuji)
1 tbsp lemon juice
1/2 cup light brown suger
1 tbsp cinnamon
pinch of salt
1 Tbsp butter
2 tbsp reserved bacon drippings
10 oz caramels, unwrapped (if you unwrap all these and put them in a mixing bowl they'll stick together, if you dust them with powdered sugar as you put them in the mixing bowl they shouldn't stick too bad but it may change how they melt)
1/4 cup heavy whipping cream
instructions
1) fry whole package of bacon in 10 in cast iron skillet, remove to a paper towel lined plate. Once cool, cut into small bits. Reserve 2 tbsp of bacon drippings in a small bowl and leave all remaining drippings in skillet. Set skillet aside
2) combine quick oats, flour, brown sugar, cinnamon, nutmeg, bacon bits, and salt and mix well. Add cubed butter butter and mix well
3) in a separate mixing bowl combine apples, lemon juice, salt, cinnamon, and remaining light brown sugar and toss to coat (tossing ensures a slightly more even coat of the mixture, but hand mixing will work okay as well)
4)reheat cast iron skillet over medium heat and add 1 tbsp butter, add apples and stir occasionally
5) in a non-stick pot place bacon drippings and caramels. Stir constantly for a few minutes and add heavy whipping cream. Mix until caramels melt and combine to make a sauce remove from the heat
6) pour 2/3 of the caramel sauce over the apples, top with a few tables spoons of bacon bits, top with oats and spread out evenly across the top.
7) bake for 45 minutes to an hour at 350°
8) remove and top with remaining caramel sauce and bacon bits
9) serve with vanilla ice cream and enjoy!