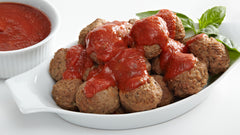 Are you looking for a great halal appetizer recipe to take to the next gathering to watch the big game?  Double the batch and your friends will love you!  Midamar Halal Cooked Italian Style Meatballs are perfectly seasoned using a famous Italian recipe and top quality Midwestern Halal beef.
INGREDIENTS:
2.5 Pounds of Midamar Halal Meatballs

 

(1/2 of bag)
3 - 8oz cans of tomato sauce
2 Cups of chili sauce
3 tablespoons of brown sugar
3 tablespoons of lemon juice
INSTRUCTIONS:
Preheat over to 350° F (175° C).
Pour 1/2 of 5 lb of Midamar Halal Meatballs

 

onto baking pan and spread so each meatball touches the bottom of the pan. 
Bake in oven for 20 minutes, turning once after 10 minutes.
In slow cooker or large saucepan, over low heat, blend the tomato sauce, chili sauce, brown sugar and lemon juice.  
Add warm meatballs from over and simmer for 1 hour prior to serving.
Delicious as a halal appetizer, in a hoagie bun topped with mozzarella cheese or on top of your favorite pasta dish.