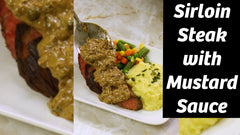 This week we decided to make a nice sauce for an even nicer piece of beef! We're using our choice sirloin for this recipe and I have to say, it's extremely tasty. My dad and brother came to the studio while I was filming and tried to take a taste three different times! When we finally did get to eat, the steak was gone within a few minutes. My brother in particular really loved this sirloin steak, at first he was apprehensive about a mustard sauce but after trying it with the beef and the Sno Pac mixed vegetables he told me, and I quote, "This is awesome."
So there you have it! That's the final word from one of the most discerning people I know. I decided that I'd serve this in the classic  "meat, potatoes, and vegetables" format. But that doesn't mean that's the only option, I think switching the potatoes with rice would be fine, but the vegetables are a must. They bring the whole meal together! 
Other than that, this recipe is very similar to last week's, the primary difference being we're cooking with beef instead of chicken. I used a non-stick pan this time, but if I did it again I'd use a stainless steel or a cast iron so I could repurpose the fond (brown bits after cooking) for the sauce.
That's it for me, if you want to see me make this, click here or keep scrolling for the full recipe!
Ingredients:
4 Sirloin steaks available here!
1 package of Sno Pac Mixed Vegetables available here!
salt to taste
pepper to taste,
1 tablespoon Olive Oil, plus more as needed
1 1/2 tbsp Butter
1 small Shallot, minced
1 tbsp Capers, rinsed and drained
1/8 cup Apple Cider Vinegar
1/8 cup Water
2 tbsp Dijon Mustard
2 tbsp Whipping Cream
Chive for garnish
Mashed Potatoes
Instructions:
1) Bring steaks to room temperature and pat dry. Season with salt and pepper and place in a non-stick or stainless steel pan over medium high heat with the olive oil and 1 tbsp butter. Cook until a golden crust forms, adding more olive oil as needed. Remove steaks to a cutting board to rest and 
2) Add remaining butter, shallots, and capers. Cook for a few minutes until slightly thickened. Deglaze with the water and apple cider vinegar cook until thickened slightly. Add Mustard and Cream, whisk to combine and cook until thick enough to coat the back of a spoon. Season with salt and pepper to taste
3) Slice steaks into medallions, pour sauce over steak and serve with mashed potatoes and veggies