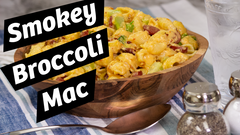 I love mac and cheese. It's been my favorite since I was 7 years old, but as I've gotten older I've found that I needed to mix it up a bit, add a little oomph to it. So, I decided I'd throw in our Campfire Griller to get some smokiness in there and I thought, "I should get something healthy in there," and that's where Sno Pac's broccoli comes in! Now, I know broccoli is a divisive vegetable. Some people love it, some people hate it. Some people here at the office didn't want to try this because this had broccoli in, and I get it. Feel free to leave it out if you'd prefer, but I personally prefer the meal as whole with the flavor the broccoli adds, not to mention, it's a great way to get kids to eat their veggies!
Now let's talk modifications: The biggest thing I'd change if I made this again would be to double on the campfire grillers. One package isn't bad but I think doubling up on them would amp it up and, let's face it, everyone is here for the cheesy grillers right? The other thing, I'd half the amount of cooked pasta added at the end. I personally like more noodle to sauce ratio, but even I thought it was a little too distracting. That said, it's wholly dependent on the type of noodle you use, the ones I used ended up being much bigger than I anticipated. Other than those two things, I loved this and I hope you do too!
Check out the video below to see how I made this or keep scrolling for the full written recipe!
Ingredients:
1 package Campfire Grillers, sliced (for stronger smokey flavor, use 2 packs)
1 package of Sno Pac Organic Broccoli Cuts (optional)
~1 tbsp Olive Oil
1 medium Yellow Onion, sliced
2 tbsp Butter
2 tbsp Flour
1 1/2 cup Half and Half
1 tbsp Dijon Mustard
3 oz Gouda
3 oz Gruyere
3 oz Medium Cheddar
5 oz Mozzarella 
12 oz pasta of choice, cooked according to pack instructions
Instructions:
1) In a large pan add olive oil and onions, fry onions until softened and lightly golden. Add Campfire Grillers and fry until browned, remove onions and grillers to a bowl.
2) In a different pan, melt butter over medium low heat. Once melted, sprinkle with flour and whisk continuously to combine. Once mixture stops bubbling audibly, whisk half and half in small batches.
3) Once mixture thickens and bubbles add mustard and gouda, whisk until cheese melts. In batches add remaining cheese and whisk until combined and melted. Once all cheese is added, add broccoli, onions, and grillers and fold with a spatula to combine. If sauce is too thick add water in very small increments until desired consistency is reached
4) Serve and enjoy!