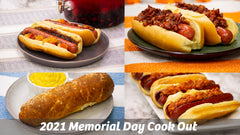 It's Memorial Day which means it's time for hot dogs and hamburgers! Last week was the hamburgers, and this week is hot dogs. And what better hot dogs than special hot dogs… And I'm not talkin' "the Chicago Dog," yeah it's a classic and that great but I'm talkin' the BBQ smoke house dog with Baked Beans, breakfast beef bits, and our smokey campfire griller. I'm talkin' a teriyaki dog with pineapple salsa and a home made teriyaki marinade. I'm talkin' a Paella dog with lightly caramelized onions and peppers with a crushed tomatoes!!! I'm also talking about pretzel dogs, which is awesome because you learn how to make pretzels too!
Check out our video to see how I made this or keep scrolling to get the full written recipes, I gotta go have another Smoke House Dog, until next time!
Ingredients for the Paella Dog:
1 Package of Midamar Jumbo Hot Links
1 Long Sweet Green Pepper, seeded and diced
1 medium yellow onion, diced
28 oz can of Crushed tomatoes
1 tsp paprika
Olive oil
1 box of yellow Spanish Rice, prepared to box instructions
2 cloves of garlic, minced
Salt and Pepper
Hot Dog Buns
Instructions for the Paella Dog:
1) Place pepper and onion in a pot with Olive oil, cook until slightly translucent, about 5 – 10 minutes. Add Garlic and cook until fragrant, about 2 minutes. Add paprika and cook for 1 minute more. Add Crushed tomatoes and cook, stirring constantly for ~20 minutes or until the tomato has slightly reduced, add salt and pepper and remove from heat
2) Prepare Spanish rice according to box instructions. Meanwhile, cut the Hot Links in being sure not cut completely in half (unless that's something you'd like). In a pan Cook the Hot Links cut side first, flip once
3) In a mixing bowl combine the tomato mixture with the Spanish Rice. Using a spoon, place some of the paella inside the hot links, place links in a bun and enjoy
Ingredients for the Pretzel Dog:
1 Package of Midamar Jumbo Beef Franks
1 packet Active Dry Yeast
1 Tbsp Sugar
1 tsp Salt
1 ½ cup warm water
4 ½ cups of flour
6 Tbsp melted butter, divided
2/3 cup Baking Soda
Sea Salt
Instructions for the Pretzel Dog:
1) combine the yeast, salt, sugar, and warm water in a mixing bowl and let bloom for 10 minutes or until foamy. Add flour and 4 Tbsp melted butter. Mix with a spatula to start then switch to kneading by hand. Knead for 10 minutes, adding 1 Tbsp of water if the dough is too dry. Place dough in greased bowl, cover and let rise for 1 hour
2) Take handfuls of dough and wrap around the Jumbo Beef franks, being sure to close each hole that appears in the dough. Pre-heat oven to 400°, fill a large pot with water and add baking soda. Whisk to combine and bring to a boil. Boil each pretzel dog for 30 secs to 1 minute. Remove to a wire rack.
3) Brush pretzel dogs with remaining melted butter, top with sea salt. Bake pretzel dogs for 20 minutes, flipping once. Cook until all dough is golden brown, you may have to flip them more than once and cook for an additional 5 minutes. Serve with honey mustard or cheese sauce
Ingredients for the Smoke House Dog:
1 Package Midamar Campfire Grillers
1 package Midamar Breakfast Beef strips
½ cup BBQ Sauce
½ cup Brown Sugar
28 oz Can of vegetarian Baked Beans
Hot dog buns
Instructions for the Smoke House Dog:
1) Combine baked beans, BBQ sauce, and brown sugar. Bring to a boil and cook until slightly thickened or reaching desired thickness.
2) Prepare 3  (or more if needed) strips of breakfast beef, cook until crispy. On a cutting board chop finely, put beef bits in a small serving bowl
3) pan fry, or grill, Campfire Grillers. Place grillers in hot dog buns, top with baked beans and beef strips
Ingredients for the Teriyaki Dog:
1 package Midamar Premium Beef Franks
1 clove Garlic, minced
1 Tbsp Brown Sugar
1 tsp grated Ginger
1 tsp toasted Sesame Oil
1 Tbsp Reduced Sodium Soy Sauce
¼ Pineapple Juice
Pineapple Salsa
Hot dog buns
Instructions for the Teriyaki Dog:
1) In a small mixing bowl combine garlic, Brown Sugar, Ginger, Toasted Sesame Oil, Soy Sauce, Pineapple Juice and whisk to combine.
2) Using a fork, poke holes in one side of beef franks. In a zip top bag place franks and cover with teriyaki marinade. Let marinate for 1 hour to 24 hours.
3) Pan fry or grill franks, reserving marinade. In a small pan cook marinade until thickened, about 5 – 10 minutes
4) Serve teriyaki dogs with pineapple salsa and reduced sauce
5) Don't forget the tea!
Ingredients Fruit Tea:
Water
3 Black Tea Bags
Instructions for the fruit tea:
1) Combine all the tea ingredients in a container with a spout, mix well and let sit in refrigerator for 1 day
That's it for me this week, check us out on Facebook and let us know if you made this and how you made it your own! Be sure to check us out on Youtube and follow us on Instagram as well to keep up on all of our delicious Halal recipes. Thank you from all of us Midamar!