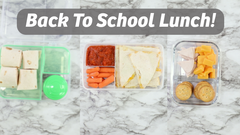 When I was a kid, I loved a good packed lunch. And often I would want one of those lunchables with crackers, but alas, they were not halal. Well, to the child version of myself I present! The Halal-able... Halalunch-able? I don't know, we're gonna go with "The Mini Turkey Cheddar Sandwiches," yeah... No matter what you call these they're great. My dad, brother, and I all shared these the day after filming and the consensus was positive. Always a nice outcome. 
The next boxed lunch we have is a classic, a staple, dare I say? The pinnacle. The Turkey Cheddar Roll Up. Ladies and gentlemen, this one took me less than 5 minutes and it's infinitely customizable. Switch out the cheese, add lettuce, add a condiment, even change out the deli meat! The choices, literally, could be endless. I like to serve this one with some greek yogurt and frozen fruit, almost like a parfait.
The final one was, in my opinion, the best. The Pizza-dilla. Does it take a little more time? Yes. Is it a lot of food for a child? Absolutely. Is it an exciting Halal Lunch? You bet it is. Plus, it's a combo of 2 of my favorite foods from youth: pepperoni pizza and a cheese quesdilla. I like to serve this one with pizza sauce for dipping and carrots.
And that's it! 3 simple recipes, 3 delicious lunch boxes for kids or for adults like me. To watch me make this, check the video below or keep scrolling to find the full written recipe!
 Turkey Cheddar Roll Up
 2 - 4 slices Midamar Oven Roasted Turkey Breast
1 - 2 Large Tortillas
 2 slices of Cheddar Cheese
2-4 Tbsp Greek Yogurt
1 - 2 Tbsp Sno Pac Mixed Berries
Instructions
 1) On a cutting board, lay tortilla. Top with cheddar and turkey. Cut two of the round edges, tightly roll up and cut off excess tortilla on the edges
 2) In a small cup place 1 - 2 tbsp greek yogurt, place fruit, top with yogurt, add 1 tbsp of fruit. Place fruit on top and cover with lid.
 3) Place yogurt and roll-ups in a divided container 
Pizza-dilla with Carrots
2 Tortillas
Halal Beef Pepperoni
1 cup of Mozzarella, shredded
1/2 cup of Cheddar, shredded
Pizza Sauce
Carrot sticks
Instructions
1) Lay 1 tortilla on a cutting board, or baking sheet, place half of the cheeses and all of the pepperonis, top with remaining cheese and second tortilla.
2) Bake at 350° for 5 - 10 minutes
3) Remove from oven, cut into eighths, and place in a divided container that has 3 slots
4) Place carrot sticks and pizza sauce in remaining compartments. 
Mini Turkey Sandwich
Turkey Deli Meat
Block of Cheddar
crackers
Instructions:
 1) Cut deli meat into eighth's and cut block of cheddar into small, bite sized pieces.
 2) Place meat, crackers, and cheese into a divided lunch box
And that's it! Simple and quick... just like checking our social medias... Head to facebook or instagram and give us follow!