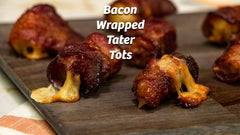 Recently, I had some friends over and I thought, "What's something that's easy but tasty and involves tater tots?" That's when I had the good fortune to find these bacon wrapped cheddar tater tots! As with most small appetizers, our bacon wrapped tater tots recipe can be customized to fit most any palate. But I'm getting ahead of myself, lets first discuss how I made these.
To start, we took a tater tot and placed it on our bacon. We did this so we could measure out a length that would neatly wrap around the tot. Or... as neatly as we could get it! Next, we move the tot down past the cut we made and place the tot again. We found that we could get about 3 lengths from each strip of bacon, though if you wanted you could cut the bacon in half and use 1 strip of bacon per 2 tater tots, but that's up to you. Next, bring in some cheese that had sliced from a block. However, it would arguably work better to use deli sliced cheese as it'll be thin and easy to roll up. Place the cheese on your strip of bacon, top the cheese with one of your tater tots, then do as the name claims and give that tater tot a nice little bacon wrap. Repeat the process until you run out of tater tots or bacon and then we move on to the best part, the brown sugar glaze!
This brown sugar glaze is simple and adds a new layer of depth to this simple appetizer. At the start of this blog I mentioned that this recipe is very easy to customize, and now it's time to get creative! Variations on this recipe could be as easy as switching out the brown sugar for white sugar, adding cayenne to the brown sugar to have some sweet and spicy. You could even switch the cheddar out for pepper jack cheese, and use cocoa powder with white sugar to give it some chocolately heat! The opportunities are endless!
But that's it for us this week. If you want to see me and my crew try this recipe, click here otherwise you can find the full written recipe below!