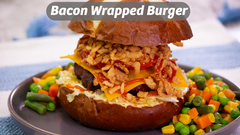 It's simple, it's fast, it's delicious, it's a classic, ladies and gentlemen I present: The Bacon Wrapped Cheeseburger, and this time... we can eat it. Using Midamar's hickory smoked Halal beef bacon and seasoned beef patties make this something you can make any day of the week. Long day at work? Busy day with the kids? Feelin' a little lazy? This is the burger for you. In fact, I make this on days that I film because it satisfy my desire for a tasty dinner without taking my entire night to make. Not only that, but because of this sandwich I've found that French-fried onions may possibly be my favorite burger topping ever. Don't be surprised if we use them again in some kind of BBQ burger... That said, we have to have a little bit of veggies with this thing because it's uh... it's not the most healthy thing. So, to cover that, we're adding some Sno Pac Organic Mixed Vegetables to add a little natural color to the plate. Also, these are one of the view frozen veggies I can get myself to eat, usually I don't like frozen vegetables but these taste just as good as the fresh ones. But don't take my word for it, try them yourself and let us know on facebook, instagram, and twitter what you thought!
That's all I've got, this burger is self-explanatory! To see how I made this click the video below or keep scrolling for the full recipe!
Ingredients:
3 strips of Midamar Breakfast Beef (aka beef bacon)
1 Package of Sno Pac Organic Mixed Vegetables
1 Pretzel Bun, cut in half
1 slice of Smoked Cheddar, or your preferred cheese
1 Tbsp Mayonnaise
~1 Tbsp Ketchup
1 small hand-full of shredded lettuce (fresh or store bought, I tried shredding it myself and was way easier and more tasty)
2 Tbsp French Fried Onions
Instructions:
1) Place beef patty in the center of 1 piece of bacon, fold bacon over the top of the patty. Rotate the burger and place in the center of the 2nd piece of bacon and fold over the top. Repeat for the 3rd piece of bacon.
2) In a pan, cook burger on both sides until bacon reaches desired doneness. Using tongs, lift the burger and cook the edges in the pan, this is to make sure the bacon is completely cooked and safe to eat.
3) Heat Sno Pac Mixed Vegetables according to package instructions, meanwhile assemble your burger. To make sure your burger is stable, build it with: bun, mayo, lettuce, burger, cheese, tomato, ketchup, French-fried onions, and top bun, serve with veggies
And that's it! 3 easy steps is all it takes. That's it for me today, but if you want to stay on top of all our Halal news and recipes follow us on facebook, instagram, and sign up for our emails!