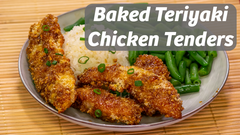 I personally love Asian food, whether it be as close to the original as I can be while still eating halal or inspired foods. Today, we're going to make some inspired chicken tenders, and these tenders are awesome. Everyone who tried them loved them, in fact, I brought some leftovers to my grandpa and he has mentioned several times since that I should make him another batch some time. So this has the official seal of approval!
For this recipe, I made the tenders a couple different ways. Specifically, I tried two different methods for the breading. I tried dipping the chicken in the breading once and then dipping it in the breading twice. To my surprise, the difference is noticeable, the once dipped chicken had a distinct lack of extra crunch.
Another thing that I was surprised about was the hot chili oil. Normally, I would expect this ingredient to, as the name implies, add heat, however, this time it didn't and that was awesome. Now, I'm sure you could add more chili oil and it'll be stronger, but the little bit that I used added the chili flavor but, I think through the honey and the cooking process, the heat died down and the flavor of chili itself really came through in a delicious way.
But that's it for me, let us know on social media if you liked this recipe and I'll see you next week!
Ingredients:
1 lb chicken breast, cut into strips
1 tsp grated ginger
4 clove of minced garlic, divided
~1/3 cup + 4-5 tbsp (keep these separate) reduced sodium soy sauce
2 cups panko breading (plus more as needed)
2 large eggs
2/3 cup honey
hot chili oil to taste, (about 2 tsp)
1 tbsp water
1 tbsp corn starch
sno pac green beans
green onions for garnish
Instructions:
1) Place chicken, ginger, 1 clove minced garlic, and 1/3 cup soy sauce in a zip top bag. Remove as much air as possible and thoroughly coat the chicken with marinade. put in refrigerator and marinate for 15 minutes to 2 hours
2) Place aluminum foil on a baking sheet, coat with non-stick spray and set nearby. Place eggs in a bowl and whisk until beaten, lay panko on a plate, and remove chicken from marinade and pat dry with paper towels. Reserve marinade
3) Using one hand, dip the chicken in the egg and coat thoroughly. Place in panko, flip and cover the other side of the chicken with panko and set on baking sheet. If you want more crispy breading place panko coated chicken back into egg then cover with more panko, being sure to press firmly to ensure the whole perimeter of the chicken is coated
4) Bake chicken at  400° for 20 minutes, flipping once after 10 minutes. Cook until breading is golden brown
5) Meanwhile, in a pot combine remaining garlic, remaining soy sauce, honey, and hot chili oil. Whisk to combine, the cool for about 1 minute over medium heat. Add marinade and cook for an additional 3 minutes whisking frequently. In a small bowl, combine water and corn starch and thoroughly combine with a fork. Pour half of corn starch slurry into sauce and cook for a few minutes. Check thickness of the sauce on the back of a spoon, for thicker sauce use the whole slurry. Once desired thickness is reached, remove from heat and keep warm
6) Remove chicken from oven and let cool for 1 minute. Place chicken in a large mixing bowl, cover in half of the sauce, and toss to coat
7) Serve tenders with sno pac green beans and rice