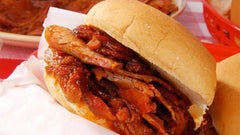 1 3-4Lb Midamar Halal Chuck Roast
8 Midamar Halal Hamburger Buns
1 Cup Of Your Favorite Barbeque Sauce
1 Medium Onion Thinly Sliced
Salt And Pepper
Trim off unwanted fat off the roast and season well with salt and pepper.
Place chuck roast in a crock pot on low heat. Place sliced onions on top of the chuck roast and pour barbeque sauce evenly on the whole chuck roast.  Place lid on crockpot and cook for 6-12 hours.
Break up the roast with a fork, stir everything well to absorb all of the juices.
Place meat on hamburger buns and serve.
Yields 8 servings.