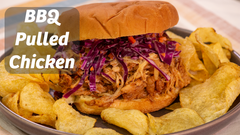 This week we're making some zesty BBQ Pulled Chicken featuring chicken thighs from Midamarhalal.com! This recipe calls for a slow cooker, and if you don't own one, it's definitely worth the investment. 
Slow cookers can be used for so many recipes: easy shredded Mexican chicken, bbq pulled chicken, soups, and so much more. I personally love these because, believe it or not, there are days where I don't want to cook. I just want to come home, throw on a movie and relax, and this recipe solves the, "what am I gonna eat for dinner," conundrum that inevitably arises. Just start this in the morning, shred it after work and eat whenever you're ready!
I served this on a bun with some coleslaw and chips, but this stuff really can be used in a variety of ways. The classic option is a bun, also the easiest, but if you do make 3 whole pounds of this, and you have as much extra as we do, you'll want to get a little creative. For example, If you like BBQ pizza this saves you a step. Using some leftovers from this recipe, a little bit of red onion (if that's your thing), and some bbq sauce and boom! bbq pizza at home in a hurry.
That's it for me this week, if you want to see a quick version of this recipe, check out the video below or keep scrolling for the full recipe!
 Ingredients:
3 lbs Chicken Thigh from Midamarhalal.com
1 1/2 tsp Smoked Paprika
1 1/2 tsp chili powder
1/2 tsp garlic powder
~1/2 tsp salt and pepper, or to taste
1 bottle of bbq sauce, divided
1/2 small yellow onion, pureed
hamburger buns
Instructions:
1) In a small mixing bowl combine the spices and whisk thoroughly
2) Place chicken in a slow cooker, cover with spice mix and mix thoroughly
3) Add pureed onion and 1 1/2 cup bbq sauce to the pot, and mix, being sure to coat each piece of chicken with the sauce and onion. Cover and cook on low for 6 hours
4) After 6 hours, remove chicken to a large mixing bowl, or cutting board and shred. Drain cooking liquid from the slow cooker into a large mixing bowl and reserve. Place shredded chicken back into slow cooker, pour about 1/4 or 1/2 cup of the cooking liquid back into the pot, cover with remaining bbq sauce and mix thoroughly
5) Serve on a bun with coleslaw and chips, and enjoy!