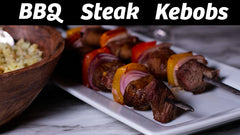 This week we're taking United Steaks of America's All-American Halal Beef Sirloin, and the only way to make this recipe easier is to skip the marinade! 
Now, if you want to preserve the taste of the steak, don't marinate the meat prior to grilling or baking. But this time I decided I'd prefer to have this sirloin steak with a little extra oomph, and that's where our marinade comes in. Then comes the vegetables. Growing up, my mom always used to use onions, peppers, and the steak and it was, and is, one of my favorite things she's ever made for us. Recently, I've been enjoying beef with mushrooms, and I thought that this would be a great time to add that to the list! 
The best way to serve the steak kebobs is really dependent on your personal tastes, however, I usually have this one of two ways. The first is with hummus, thin pita bread, and some kind of salad. Usually a simple cucumber tomato salad with oil and lemon juice is perfect, but sometimes we serve it with rice pilaf which is how I've depicted it in the photo here. 
Get a quick recap of this week's recipe here!
 Ingredients:
4 Sirloin from our steaks tab!
8 oz mushrooms, cut in half
2 red onions, cut into eighths 
1 red bell pepper
1 orange bell pepper
1 yellow bell pepper
Ingredients for marinade:
1 tsp dijon mustard
2 tsp honey
1 Tbsp garlic, minced
2 1/2 tsp Worcestershire sauce
2 tbsp lemon juice
1/2 cup soy sauce
1/4 cup olive oil plus 2 tbsp for vegetables 
Instructions:
1) combine all ingredients for marinade. Cut Halal Beef Sirloin into 1 inch pieces, place Halal Sirloin in a zip top bag with marinade. Shake to cover meat and let marinate for 30 minutes to 1 hour. If using wood skewers, soak them in water 30 minutes before prepping with vegetables and meat
2) Combine all vegetables except onion in a mixing bowl, cover with 2 tbsp olive oil and toss to coat
3) Place 1 pepper piece, 1 piece of Halal Sirloin, 2-3 layers of onion, and mushroom on skewers. Repeat pattern until all ingredients are used. Feel free to create your own pattern
4) Heat grill to 425°, place skewers and cook until no pink is remaining on beef. If roasting, set oven to 350° and bake for 25 minutes, flipping once half way through. Serve with rice pilaf, hummus, and pita bread