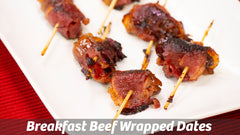 Ramadan Kareem everyone! This week we're making a very simple, incredible delicious appetizer or light dessert: The Breakfast Beef Wrapped Date!
We start by lightly frying the beef, wrapping it around a nice Ziyad Deglet Noor Date, then we secure the beef to the date with a toothpick and then we dredge it in pure maple syrup and then we fry it again to get a nice crisp crunch with the soft warm date. Drizzle with more maple syrup to give it a nice maple kick.
One final note, I don't think that using anything but pure maple syrup will work in this recipe but you can try it if you like. Because most of maple syrup that you can get at the store is often made with corn syrup, I would think that those products may burn faster than natural maple syrup, but I haven't tried it so I suppose I shouldn't say for sure.
This has become a permanent treat in my house and I'm sure it will be in yours too! Check out the video below to see how I made this, or keep scrolling to read the written version of the recipe.
Ingredients:
1 package Midamar Breakfast Beef Strips
1 package Ziyad Deglet Noor Dates (now available on our site!)
½ cup pure maple syrup
Toothpicks
Instructions:
1) Cut Breakfast Beef Strips in half and lightly fry, about 2 – 3 minutes
2) On a cutting board, place a beef strip then a date. Wrap the beef around the date and secure with a toothpick
3) Dip dates in maple syrup and fry until the beef crisps up, flip and fry on the other side until crisp
4) Remove from heat, drizzle with maple syrup and serve
That's it for me this week, check us out on Facebook and let us know if you made this and how you made it your own! Be sure to check us out on Youtube and follow us on Instagram as well to keep up on all of our delicious Halal recipes. Thank you from all of us Midamar!