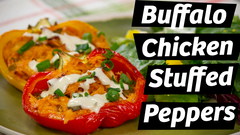 Buffalo chicken has been loved across the United States for a long time, and I thought we should explore a quick and easy way to not only make it halal. Now, this recipe does require using an instantpot, but there are substitutes for that. There are many ways to make shredded chicken, however using an instantpot is, as the name would imply, pretty quick.
Just before serving I like to garnish with green onion and ranch dressing. Now, I know that ranch is divisive, but for me personally, it's nice to get something to help mitigate the heat of the buffalo sauce.
It's a short and sweet one this week! I'll leave you with an early Eid Mubarak and I'll see you back here next week for our next recipe!
Ingredients:
 1 lb chicken breast, available in the chicken tab!
2 tsp Garlic Powder, divided
2 tsp Onion Powder, divided
1 tsp Smoked Paprika
½ tsp water
¼ cup Franks Red Hot, or another cayenne pepper sauce
½ cup Mayonnaise
1 bunch (about 4) green onions, reserve half for garnish
3 bell peppers, any color, cut in half
Instructions:
Place 1 tsp garlic and onion powder, smoked paprika, water, and whisk. Add chicken, cover with lid, set to pressure cook for 10 minutes
Once cooked, remove lid and shred chicken with forks. Drain about half of the liquid.
In a medium mixing bowl place: the shredded chicken, remaining garlic and onion powders, franks red hot, mayo, half of the green onions, and mix thoroughly.
Stuff chicken into peppers and place on an aluminum foil lined sheet pan, meat side up. Tent with more aluminum foil and bake at 400° for 30 minutes.
Remove peppers from the oven, discard tent and bake for an additional 20 minutes. Garnish with remaining green onions and ranch, serve with salad