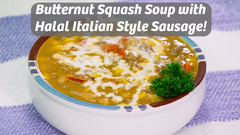 This week we're keeping it simple and tasty. This soup is a great way to sneak in some veggies for the kids... or for the adults that don't like veggies! Anything you'd like to add to it through it in with butternut squash and puree it later, they'll be none-the-wiser ;)
In seriousness though, this recipe was awesome. To put in perspective, usually, people around the office like the stuff I make but it takes at least 3 days for it get completely eaten, but in this case? I finished taking pics and an hour and a half later this was completely gone. Gotta say, that made me feel pretty good. The only critic I received was that peas would be good in it, and I have to say, I agree. Not to mention we sell Sno Pac Organic butternut squash, corn, and peas here on the site, so you can get all of it in one order and have this tasty soup within a week!
I think the thing I liked most about this recipe was the simplicity. It was about as complicated as making tacos. Prep the onion and bell pepper, season your meat, and cook it. That was the longest part. Other wise it's just bringing the squash and corn to a simmer with some water, or chicken stock, and blending it. It's made even easier because we use sno pac squash here. It tenderizes much, much faster than squash usually does. But I digress!
If you want to see me make this click the vid below or keep scrolling for the full recipe!
 Ingredients :
1 lb Midamar 80/20 Ground Beef
1 package of Sno Pac Corn, divided, available in our vegetables section
2 packages of Sno Pac Butternut Squash, available in our vegetables section
1 tsp Basil
1 tsp Thyme
1 tsp Oregano
1 tsp Rosemary
1 tsp Paprika 
1/2 tsp Garlic Powder
1/2 tsp Onion Powder
1/2 Small Yellow Onion, sliced
1/2 Red Bell Pepper, chopped
2 cups of Water or chicken stock
1 can of Great Northern Beans, drained (substitute navy beans or cannellini beans if you can't find these)
1 can of Fire Roasted Tomatoes, do not drain
Salt and Pepper to taste (I used about 1/2 tsp of each)
heavy cream (for topping, optional, but quite tasty)
Instructions
1) Combine all seasonings except salt and pepper with the ground beef. Mix thoroughly 
2) Fry meat, onions, and peppers in a large pot until meat is fully cooked and no pink remains. Remove meat mixture and set aside, drain fat or keep for added flavor
3) In the same pot add the squash, 1/2 of the corn, and 2 cups of water/stock and bring to a boil. Reduce to a simmer and let cook for about 5 minutes or until squash is tender. Remove from heat and let cool slightly
4) Place squash and corn mix into a high powered blender or food processor and blend in batches until smooth
5) Pour the squash soup base back into the pot. Add beans, tomatoes, corn, meat, salt and pepper, mix thoroughly and heat through
6) Once heated serve with heavy cream and enjoy!