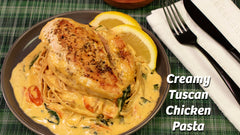 I've been seeing this recipe for years and it occurred to me that I had never tried it myself. It combines a few of my favorite things: halal chicken, creamy Italian sauces, and pasta, so it has to be delicious. And delicious it was!
A lot of the recipes I saw suggested leaving cheese out of this recipe but, that is something that I just cannot do! My love of alfredo sauce bleeds into pretty much every Italian sauce I make with cream. For that reason, I try not to make this kind of stuff often but, when I do, I gotta do it right! To this recipe, I decided that we'd add some tasty, freshly shredded, parmesan to make sure that we paid homage to my favorite sauce and, it was worth it. The general consensus was that making this into more of a variation of an alfredo sauce was the right call.
With that said, I would suggest adding just a couple more things to make this meal even better! The first, is sno pac frozen peas from our grocery section. Peas and alfredo sauce seemed like a strange combination the first time I had tried it but, I couldn't have been more wrong in my hesitation. The flavor of the peas is made slightly less intense when combined with the sauce and the parmesan and noodles shine even stronger when amplified by the pea. That said, if you're hesitant, make the peas on the side and try them as opposed to putting it straight into your sauce. The next thing would be fresh nutmeg. I heard this from a cooking Youtuber I follow and I really had my doubts. I smell nutmeg and I think "pumpkin pie," but again, my hesitation wasn't warranted. The little bit of fresh nutmeg makes the whole dish brighten up with some earthy tones.
Alright, my mouth is watering just writing all this out! I'm going to get ready to make this for dinner, I hope you all enjoy this recipe. 
Thank you all for stoppin' by and we'll see you next week with another awesome Halal recipe!
Cassem