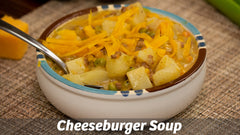 When I was in college I happened upon a recipe. Little did I know that it would become the most common soup I made. It's hearty, it's chunky, it's cheesy, it's beefy, it's got veggies to keep ya strong, but most importantly it makes a ton of soup which saved me time on cooking and left more time for studying. Also, more time for watching movies… Another beautiful part of this recipe is how easy it is to modify. Cook up some breakfast beef, cut it into bite sized pieces, toss it into the soup at the same time you add the cheese to get some nice smokey goodness throughout the soup or add a bag of sno pac mixed vegetables to get more veggies in there, or do both! This soup is called "cheeseburger soup" but it's really more like a cheesy potato stew, but let's face it, that's just semantics.
No Matter what you call it this soup is perfect when you want a nice hearty soup! Check out the video below to see how I made this soup.
Ingredients:
1 lb 93/7 Ground Beef
5 Tbsp butter, divided
1 small yellow onion , chopped (or diced, whatever you prefer)
1 cup celery (~6 stalks)
1 package Sno Pac Organic Peas and Carrots
1 tbsp basil
1 tsp parsley
¼ tsp salt
1 ½ lb's cubed potatoes
4 cups beef broth
¼ cup flour
4 cup freshly shredded cheddar cheese
Instructions:
1) Cook ground beef with 1 Tbsp butter, once browned remove to a mixing bowl and set aside
2) Sauté veggies and herbs in 1 Tbsp butter until tender, about 10 minutes
3) Add potatoes and beef broth and bring to a boil, reduce to a simmer and cover for 15 minutes
4) meanwhile, in a non-stick skillet melt 3 Tbsp butter, once melted add flour and cook until flour smell dissipates. Remove from head once thickened
5) Add flour mixture to soup and stir until flour mixes with soup, about 2 minutes
6) Reduce heat to low and stir in cheese, salt, pepper and cook until cheese melts
7) Serve soup with bread or crackers
That's it for me this week, check us out on Facebook and let us know if you made this and how you made it your own! Be sure to check us out on Youtube and follow us on Instagram as well to keep up on all of our delicious Halal recipes. Thank you from all of us Midamar!