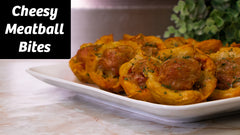 Hello, welcome to our Friday recipe! This week we're looking at an awesome appetizer that is perfect any and all sporting events: the cheesy meatball bite.
As some of you may know, I film all of this at the Midamar office in Cedar Rapids, Iowa and usually with recipes like this, I take the final product and have everyone try it. This was a hit. Everyone loved it, and some even came back for seconds! I can't blame them, I was tempted to make this again for dinner that night. It's extremely simple: crescent rolls, pizza or marinara sauce, mozzarella, and Midamar's meatballs. That's it. 
Our meatballs are well seasoned to make sure that recipes like this, or pizza, or spaghetti are easily made. Personally, I like to use these for homemade meatball subs, and you can find that recipe here.
And that's really all there is to say about this, if you'd like to see me make this click here or you can find the written recipe below!
Ingredients:
8 oz tube of Crescent Rolls
Pizza or Marinara Sauce
Mozzarella cheese, freshly shredded preferred 
Instructions:
1) Open and unroll the crescents. separate the main perforated edge in the center. Cut each section into thirds using a pizza cutter.
2)  Spray a muffin pan with nonstick spray, place the crescent rolls in the muffin pan and stretch to fit the indents. Fill with pizza sauce, cheese, 1 meatball, more sauce, and top with cheese.
3) Cook at 350° for 20 minutes or until golden brown.