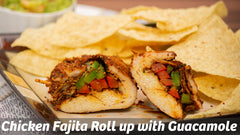 Today I decided that fajita roll ups sounded good, so we're making that with a very simple guacamole on the side. I really love fajitas, but grilling season is still making it's way to us here in Iowa so for the time being this baked recipe will do! Plus, we make a nice a fajita seasoning ourselves, this recipe will make extra fajita seasoning so be prepared to bag some up and keep it in the cabinet for another day. It's important to make sure that the seasoning gets into all the crevices of the flattened chicken breast. We want this to chicken to be extremely zesty and seasoned.
As for the guacamole, this recipe is extremely simple, some guac's can be more involved, but in this case the guac is really only used as an accessory to the chicken which I think worked well. I use a lot of lime in the guac, but my dad, my brother, and I all love lime a lot so do as you wish! That said, taste your lime before you add the juice to the guac, Limes sometimes very in intensity. Sometimes you'll need 1 whole lime, sometimes you'll only need half a lime, just depends on your tastes and the strength of the lime. One final note; next time I make this I would try and lightly sauté the vegetables to get a little bit of the cooked and charred taste to give it a little bit of the grilled taste you'll miss from this baked.
No matter how you modify this recipe to fit your tastes I'm sure it'll be great! For a video tutorial click the video below or keep scrolling for the written recipe!
Ingredients:
3 Tbsp Black Pepper
1 ½ Tbsp Paprika
1 ½ Tbsp Salt
1 ¼ Tbsp Cumin
½ tsp Onion Powder
1 ¼ tsp Parsley
1 ½ tsp Chili Powder
1 lb Chicken Breast, cut into fourths and pounded flat
½ Red Bell Pepper, cut into strips
½ Green Bell Pepper, cut into strips
½ Yellow Onion, cut into slices
For the guacamole:
2 Avocados, cut into chunks
¼ tsp Salt
Juice of 1 Lime
1 large Tomato cut into chunks
Black Pepper to taste
Instructions:
1) Combine the first 7 ingredients in a mixing bowl and whisk together
2) Coat flattened chicken thoroughly in seasoning
3) Place strips of peppers and onion on the inside of the chicken
4) Wrap chicken around vegetables and secure with a tooth pick
5) Bake chicken at 400° for 25 minutes
6) Meanwhile, mash avocado with salt and lime juice. Once thoroughly combine fold in tomato
7) Serve chicken with guac and chips
That's it for me this week, check us out on Facebook and let us know if you made this and how you made it your own! Be sure to check us out on Youtube and follow us on Instagram as well to keep up on all of our delicious Halal recipes. Thank you from all of us Midamar!