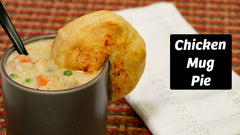 When I was in college, my roommate was well known for eating mostly 2 things. Frozen burritos and frozen chicken pot pies. Now, he didn't need it to be Halal so his options were seemingly limitless in terms of quick and easy options for after class. I, however, did not. And I gotta say, there's only so much pot pie you can smell before you just have to have some yourself! 
So, today I will share with you one of my favorite, easy college recipes from my own experience. This meal is cheap, it's filling, and best of all, it's so much better than anything you could get frozen ;)
To start, I used Halal chicken, which you can find here at Midamarhalal.com, then I fried the chicken in some butter with celery, onions, and carrots. From the recipe there it's as simple as adding some chicken stock, half and half, and seasonings. 
This is a soup though, but my favorite part of pot pies was always the crust and how it tasted with the filling. Because this recipe is more of a soup than it is an actual pie, I like to make it with biscuits. That way, I get some of the flakey bready flavor.
But, if this is a soup, why is it served in a mug and not a bowl? Well, that is a good question. As I started making this in college, I wanted something that was more portable... and we only had a few bowls.
I think that's enough for me though, I hope you enjoy this recipe! If you want to see me make this click here or you can find the written recipe below! 
Ingredients:
butter biscuits
paprika (any kind will do)
1 lb chicken breast from midamarhalal.com
3 tbsp butter
2 ribs celery, cut into small pieces
1/2 medium yellow onion, sliced
1 large carrot, sliced
salt and pepper to taste
2 tsp poultry seasoning
~3/4 cup to 1 cup Sno Pac Hash Browns, available in our grocery section!
3 tbsp flour
1 pint half and half
4 cups chicken stock
1/4 tsp nutmeg, optional
Sno Pac Frozen Peas, available in our grocery section!
Instructions:
1) Bake biscuits according to package instructions, sprinkle tops with paprika before baking
2) In a pot, melt butter. Fry chicken in butter until little pink remains visible. Add vegetables, season with salt, pepper, and poultry seasoning, and cook for 10 minutes or until onion is tender and carrots are slightly softened. Add flour and cook for an additional 5 minutes. Add potatoes, half and half, chicken stock, and nutmeg. Bring to a boil, reduce heat to a simmer and let cook for 10 minutes, stirring occasionally. Add peas and cook until peas are heated through.
3) Serve in mugs, or bowls, with biscuits and enjoy!