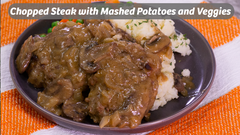 With Fall comes a new style of cuisine, a food that's more filling and, dare I say, comforting. So, let's kick it off with Chopped Steak with Mashed Potatoes Sno Pac Veggies! Now, I've said this, I've written this, I've… felt this, for a long time. Frozen is not my favorite way to eat vegetables. Sno Pac, however is the exception, which is why we sell it. Which is why we eat it! When I'm cookin' a good homestyle meal to warm me up as the days get cooler I always like to pair it with some vegetable from the site. But I mean, it's my family business, there's a bias, but my girlfriend is quite picky and even she likes the veggies we sell!
Another note, I didn't include the mashed potato recipe in this post and this video. My thought was we've made it before and I didn't feel like doing anything special to these because it detracts from the hero of the dish, which is the tasty patties!  
Ingredients:
1 large egg
3 tbsp. breadcrumbs
1 tsp garlic powder
1 tsp onion powder
½ tsp paprika
salt
Freshly ground black pepper
2 tbsp oil
2 tbsp. butter
8 oz. sliced mushrooms
1 small yellow onion, thinly sliced
2 tbsp. all-purpose flour
1½ cup low-sodium beef broth
Sno Pac Organic Peas and Carrots
Instructions:
1) In a mixing bowl combine the first 8 ingredients and mix thoroughly. Form into 4 equal sized patties.
2) Place a large pan over medium high heat and add the oil, once hot place the patties and brown on each side for about 5 minutes. Remove the patties to a plate and set aside.
3) Add onion and mushrooms to the oil and cook until slightly tender, then add the butter. Once mushrooms are tender and onions are translucent add flour and beef broth and stir to combine. Bring sauce to a boil, reduce heat and simmer for 5 minutes or until thickened
4) Add patties to pan, cover in sauce and cover with a lid. Cook until patties are heated through and serve with mashed potatoes and Sno Pac Peas and Carrots
That's it for me this week, check us out on Facebook and let us know if you made this and how you made it your own! Be sure to check us out on Youtube and follow us on Instagram as well to keep up on all of our delicious Halal recipes. Thank you from all of us Midamar!