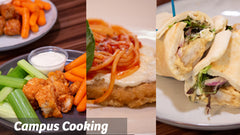 This week we're making three quick, easy, and great recipes for a long night of studying. Our chicken nuggets, tenders, and patties are all fully cooked too so you don't need to be worried about getting them cooked all the way through! These recipes are also great for kids who are home from school too! I personally made these when it was finals week while I was in college. I found that they took just long enough to make that I felt like I'd get a nice break from studying but it didn't take so long that I'd lose my momentum for studying. These recipes don't take more than 15 minutes each and they add some flavor variety to the typical school/college food, there's only so many microwave noodle meals you can eat before you lose your mind, and that's a mathematical fact!
Also, I'd suggest getting a few friends and have everyone pick out some products to share and split the cost of an order. That way everyone can get some great product! No matter what you choose to do I really hope you enjoy these recipes as much as I did.
Ingredients for Chicken Parmesan:
1 Midamar Chicken Breast Patty
Small handful of spaghetti noodles
½ Cup of pasta sauce
2 of Low moisture mozzarella cheese
Instructions:
1) Microwave Midamar Chicken Patty according to instructions on the package and remove to cool.
2) Break spaghetti noodles in half and place in a bowl half full of water. Microwave for 5 minutes, stir the noodles into the rest of the water and microwave for an additional 5 minutes. Remove from microwave and drain liquid.
3) Remove noodles from the bowl to the plate with the patty. Put pasta sauce into the bowl, cover with paper towel and microwave in 30 second intervals until heated thoroughly, mixing each time you check it's warmth. Once heated, remove from microwave.
4) Place noodles into the bowl with sauce. Place mozzarella cheese on chicken patty and microwave until the cheese is melted. Remove from microwave.
5) Top chicken patty with spaghetti and basil leaf
6) Enjoy!
Ingredients for Sauced Chicken Tenders:
¼ Cup of Buffalo Sauce
¼ Cup of Honey Barbecue Sauce
Instructions:
1) Microwave Midamar Chicken Tenders according to package instructions.
2) Cut tenders into 3-4 pieces and divide into two bowls.
3) Coat one bowl with buffalo sauce and the other with honey barbecue.
4) Serve with your favorite dipping sauce, carrots and celery.
5) Enjoy!
Ingredients for Mediterranean Chicken Nugget Wrap:
1 Pita
2 Tbsp Hummus
Small handful of Mediterranean style salad
A few strips of sliced red onions (optional)
2 Tbsp Feta cheese
Instructions:
1) Microwave Midamar Chicken Nuggets according to package instructions.
2) Spread hummus on the pita. Arrange the chicken nuggets, salad, red onion, and feta across the center of the pita and fold the sandwich closed.
3) Enjoy!
That's it for me this week, check us out on Facebook and let us know if you made this and how you made it your own! Be sure to check us out on Youtube and follow us on Instagram as well to keep up on all of our delicious Halal recipes. Thank you from all of us Midamar!