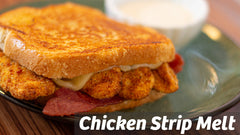 Hello, my name is Cassem Aossey and I am the grandson of the founder of Midamar. As a child my two favorite things were cooking and recording videos, and those two things followed me into adulthood. In college I decided to combine these interests and consider how to apply them to the family business, and with that I am truly excited to announce Midamar's new video series Cooking with Cass! A series of recipe videos that will introduce meals that I am eager to try and some of the Aossey family's favorite foods!
The first meal we'll make is a personal favorite of mine from high school: The Halal Chicken Strip Melt! It's great for a quick and easy lunch and features Midamar's Turkey and Chicken strips. Our Chicken Strips are kid and School approved and the pepperjack adds a nice little kick to this sandwich, check the video below for a visual guide or keep scrolling and give this sandwich a try!
Ingredients:
3 pieces of Midamar Turkey Strips
3 or 4 Midamar Breaded Chicken Tenders
2 slices of White or Wheat Bread
2 slices of Pepperjack Cheese
Softened Butter
Instructions:
1) Heat oven to 425° degrees, and cook Midamar Chicken Strips for 12 minutes
2) Prepare 3 Midamar Turkey Strips until cooked, remove from heat and bend in half.
3) Heat a pan on stove top
4) Butter one side of the first piece of bread, place 1 slice cheese, chicken strips, turkey strips, second slice of cheese and top with the second piece of bread buttered one side.
5) Place sandwich into Hot pan and cook until golden brown on both sides.
6) Enjoy!
And that's it for this week! Let us know if you tried this recipe out at home over on our facebook page and be sure to follow us there so you can stay in the loop with all our new videos. Thank you!