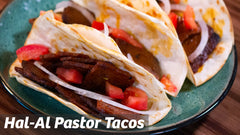 What's up everybody, this week we take a look at a recipe that was posted on our blog a while ago that I thought looked pretty tasty, the Halal Al Pastor, aka the HalAl Pastor Taco. This version uses our Beef and Lamb Gyro Strips as the protein, and it is out of this world! To tell you the truth, I was a little hesitant because when I think of chilies I imagine extreme heat, but the guajillo chilies we use in this recipe are flavorful with a very, very mild heat. In fact, I'd go as far as to say that it isn't spicy but adding some red pepper flakes or dried habanero pepper improve the heat factor, if that's what you're into.
Our Gyro strips work wonderfully for this recipe, the seasoning meshes with chili sauce to create a delicious taco that really brings out the flavors of the gyro meat. Plus, it's a new type of taco and what's better than that? Check out the video below to learn how to make this or check out the written recipe below!
Ingredients:
4 guajillo peppers
1 tbsp/1 packet of achiote powder
2 tbsp adobo sauce
2 chipotle peppers in adobo sauce
¼ cup pineapple/orange (I used pineapple)
¼ cup white vinegar
3 cloves of garlic
Fresh cilantro (optional)
Instructions:
1) Cut and seed guajillo chilies and place in a pan with 1/3 cup of water and simmer until rehydrated.
2) Put chilies in food processor and add all other ingredients except the gyro strips. Pulse 3 -4 times or until ingredients are combined
3) Strain chili mix through a fine mesh sieve into a large mixing bowl. Keep chili paste solids for other applications or discard
4) Marinate gyro strips in chili sauce liquid from an hour to overnight.
5) Cook Gyro Strips according to package instructions and serve on tortillas with onion and tomatoes.
That's it for this week, head to our Facebook and let us know if you made this and how you made it your own! Be sure to check us out on Youtube and follow us on Instagram as well. Thank you from all of us Midamar!