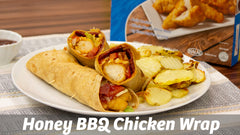 This week I was feeling something a little lighter, something with a little zing. Enter the Honey BBQ chicken tender wrap! I've always been a fan of wraps, and I think they're a great way to add some variation to a typical sandwich. Let's face it, sometimes 2 slices of bread are just a little boring, right? So, in this recipe we use tortilla instead of plain old bread and the type of tortilla is entirely up to you. Want tomato basil? Great! Want spinach? Try it out! Want the classic flour tortilla? Works perfect! However you make this dish your own it is sure to please you, your family, or perhaps your very hungry little brother who happens to be named Laith… (he interrupted me filming this at least 3 times asking me if it was ready to be eaten!)
Did you try this recipe at home? Let me know on Facebook  and Instagram! Looking for a video tutorial? Check out the video below and subscribe to our Youtube channel to stay up to date on all cooking with Cass videos!
Ingredients:
2 Strips of Midamar Chicken Tenders
2 Strips of Midamar Sandwich Style Beef Stripes
1 package of Sno Pac Organic Cottage Fries
½ cup Brown Sugar
¼ cup Apple Cider Vinegar
1 tsp Smoked Paprika
1 tsp Crushed Red Pepper Flakes
1 tsp Onion Powder
1 tsp Garlic Powder
1 tsp salt
2 Tbsp Honey
1 cup Ketchup
1 Tortilla
¼ cup Shredded Lettuce
¼ Applewood Smoked Gouda
½ Roma tomato, cut into slices
Instructions:
1) Bake Midamar Chicken Tenders according to package instructions
2) In a mixing bowl combine the brown sugar, vinegar, smoked paprika, crushed red pepper flakes, onion and garlic powder, salt, honey, ketchup, and whisk until homogenous
3) Pour honey BBQ mixture into pot and bring to boil. Reduce to a simmer and cook for 5-8 minutes stirring occasionally
4) Fry Midamar Sandwich Style Beef Strips to desired doneness
5) Spread Honey BBQ sauce on tortilla. Add lettuce, tomato, chicken tenders, and beef strips. Top with an extra dollop of BBQ sauce and finish with cheese.
6) Serve wrap with Sno Pac Organic Cottage Fries!