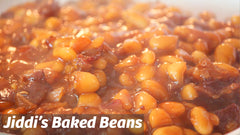 Hi everyone! The final video of our July 4th is a Midamar family favorite. I still remember the first time Jiddi made these baked beans, it must've been around 2005 that he brought these out to the park where the whole family was having our annual grill out/get together. It was nice and sweet but with a little bit of that barbeque taste, not to mention that great smokey flavor that our Breakfast Beef brings to these kinds of dishes! It's been 15 years since then and I am only just now learning how to make this, thus continuing the recipe and starting a new family tradition! Also, little side note here, Jiddi rarely makes this in small batches, but after watching and his technique I've found an approximation of his recipe that will taste exactly as he makes it. He usually makes about 4 times this amount for the get togethers, so… if you have a large family gathering once the quarantine is lifted be sure to multiply this recipe accordingly!
Ingredients:
½ of an onion, diced
1 package of Midamar Breakfast Beef
1 cuo of Brown Sugar
½ cup of your favorite BBQ sauce
½ cup of Ketchup
2 cans of Cannellini Beans, drained
Instructions:
1) Dice the onion and set aside
2) Cook breakfast beef over medium high heat until cooked, but not crispy, remove breakfast beef from drippings.
3) Add onions to drippings and cook until lightly caramelized.
4) Add Ketchup and BBQ sauce, stir. Add Brown Sugar, stir until cooked and add beans.
5) Cook until thickened slightly, add Breakfast Beef and cook for 3-5 minutes more (depends on desired thickness)
6) Pour beans into an oven safe dish and bake for 1 hour at 250° degrees
7) Remove from oven
8) Bring to your grill out and watch your friends and family smile!
That's it for this week, head to our Facebook and let us know if you made this and how you made it your own! Be sure to check us out on Youtube and follow us on Instagram as well. Thank you from all of us Midamar!