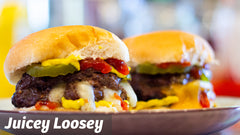 Hi everyone! To continue with our July 4th recipe week we now present to you a beloved midwestern grill option: The Juicy Loosey! After doing a little research it seems like the Juicy Loosey started in Minneapolis, Minnesota in the 50's but other than I can't seem to find very much information that looks factual. But does that really matter? To quote a famous movie, "That is a tasty burger!" The type of cheese is completely up to your preference but here I used Colby Jack and Pepper Jack, but you could use Cheddar, Havarti, or even Brie if you want to experiment a bit. I can't imagine that is good but hey, that's how some of the best foods are made!
Whatever you choose to do with this recipe though I'm sure it would be tasty!
Ingredients:
1 ½ lbs of Midamar Ground Beef
¼ Tsp. salt
¼ Tsp. Pepper
1 Tbsp. of burger Seasoning  
2 slices of Pepper Jack Cheese
2 slices of Colby Jack Cheese
Hamburger buns 
Instructions:
1) Place 1 ½ lbs of Midamar Ground Beef in a mixing bowl with seasonings, mix to combine  
2) On a cutting board cut the slices of cheese into 4 small squares and set aside
3) Place Ground Beef on cutting board and form patties, place cheese in center of ground beef and form patties
4) Grill hamburgers over medium high heat or until cooked thoroughly
5) Enjoy!
That's the second pre-July 4th post! head to our Facebook and let us know if you're planning on making this and how you made it your own! Be sure to check us out on Youtube and follow us on Instagram as well. Thank you from all of us at Midamar!