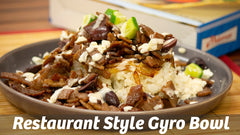 It is time for me to regale you with tale. Many moons ago a woman owned a restaurant that served middle eastern food, and one day… she needed! A couple extra employees, so she hired her cousins Laith and Cassem to help her out. Laith manned the cash register and Cassem? He prepped the food and cooked! Fast forward 7 or 8 years to 2021. And also…give Cassem a job that focuses almost entirely on food prep and viola! You get the history of this recipe video.
We mostly made gyros and things but during my tenure there I would always make my brother and I a special lunch that wasn't on the menu, we called it a gyro rice bowl but, that name isn't great so we're gonna go with gyro bowl. I once made this for a customer who couldn't decide if he wanted the chicken and rice or the gyro, so I offered to make him our special. He came back and told me we needed to add that to the menu permanently because it was one of the best things he had eaten, which made me feel pretty good. Hopefully you feel the same!
I am in love kalamata olives, they are one of, if not my favorite, things to add to food. And they fit perfectly here, the slightly acidic, slightly fruity flavor it adds works with the tahini and the gyro seasoning in what I can only describe as my favorite way to eat gyros. In fact, I had some people at the office ask me why I put kalamata olives on the Gyro Pita Pizzas I made awhile back and it's because of this dish. It's just too good not to add. Plus Laith tells me I like kalamata olives more than a person should but, to him I say, "shush."
Even if you omit the olives and just stick with the feta and cucumbers this dish is sure to please. Click the video below to see how I made this or keep scrolling to read the full recipe!
Ingredients for the Lemon Dill Rice:
2 cups of rice (I use basmati)
2 ½ cups of water
½ cup lemon juice
1 Tbsp butter
1 tsp Dill
Ingredients for the Tahini Sauce:
¾ cup tahini
½ cup Heavy Cream
1 tsp garlic powder
2 Tbsp lemon juice
1 cup of water (ADD IN BACTHES!)
Remaining Ingredients:
Midamar Gyro Slices cut into bit size pieces
1 medium yellow onion, cut into slices
1 Tbsp butter
Feta, cucumbers, and kalamata olives for topping
Instructions:
1) Add all rice ingredients to a rice cooker and cook according to your machine's instructions
2) In a mixing bowl add all ingredients for the tahini sauce except the water. Whisk to combine, in batches add water and whisk until desired consistency is reached (in the video I used about ½ cup)
3) Add Gyro Slices to a nonstick pan and heat until cooked thoroughly, remove from pan and do not drain.
4) Add 1 tbsp butter to the drippings and add onions. Cook onions until caramelized and remove heat.
5) Serve gyro slices and onions over rice, top with feta, cucumbers, olives, and tahini