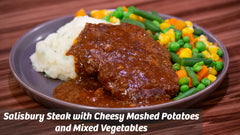 I'm back! We took a little break to focus on our new and vastly improved site! And I for one am very happy with this change, but let's get to the recipe. So, it's winter and it's cold and who doesn't want some homestyle food? So, I set out to make an easy, delicious, classic dish: the Salisbury Steak and I must tell you that this is incredible. I am adding this to my list of foods that I make at home because I can't think of a sadder notion than not having this again very soon. Plus, we make some cheesy mashed potatoes, which are always a treat, and some organic veggies from Sno Pac. I know, I know, "nobody likes veggies," but here's the thing. Nobody likes "bad veggies," and Sno Pac is anything but. I actually ended up eating all the vegetables before my brother could have some! Plus, we've made getting Sno Pac's delicious veggies easy to get through our website.
All in all I am beyond pleased with this recipe and I'm proud to share it with you all now! The mix of ground beef in this recipe and the French Onion soup give the steaks and the gravy an incredible taste all of which is complimented by the cheese and chive in the mashed potatoes; A dish the whole family can love!
Ingredients:
1 lb Midamar 80/20 Ground Beef
1 package of Sno Pac Organic Mixed Vegetables
1 egg
10 can oz condensed French onion soup
½ cup dry breadcrumbs
¼ tsp pepper
¼ tsp salt
¼ cup water
¼ cup ketchup
2 tsp Worcestershire sauce
½ tsp mustard
1 Tbsp flour
2 Tbsp cold water
2 lb's boiled potatoes
1 cup shredded white cheddar
1 cup milk
¼ cup freshly chopped chives
Instructions
1) Mix ground beef together in a mixing bowl
2) Beat egg with 1/3 cup of French Onion Soup, bread crumbs, salt, and pepper. Crumble beef over egg mixture and mix to combine
3) In a large skillet, brown patties until juices run clear, about 4 minutes per side. Remove and set aside
4) In a large pot add: drippings (optional), water, ketchup, Worcestershire sauce, mustard, and remaining soup. Bring to a boil
5) Once Boiling; return patties to skillet, reduce to a simmer, cover and let cook for 15 minutes
6) Meanwhile, boil 2 lbs of potatoes and chop 1/4 cup of chives. Once potatoes are boiled, drain and put into a mixing bowl. Add chives and slowly add milk as potatoes are mashed either with a potato masher or a hand mixer. Add 1 cup shredded white cheddar and mash again
7) Prepare Sno Pac Organic Mixed Vegetables according to package directions and serve with Salisbury Steak and Cheesy Mashed Potatoes
That's it for us for this week everyone, I hope you all enjoy these recipes and we'll see you next week for more great Halal Recipes! Follow us on Facebook  and Instagram and subscribe to us on Youtube to check out all our great recipes!