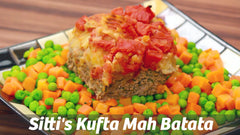 Ladies and gentlemen, boys and girls, we've done it. We've found my favorite way to have Kufta; is it a classic? Yes. Is it something my dad asked me to make for this week? Yes. Did I know ahead of time that this was my favorite variant of kufta? Yes. Yes, I did. My Sitti used to make this when I was a kid when we'd have big family dinners. I think some day I'll have to pay my respects to her by making a full on family feast once the pandemic is over and the whole family can come, but until then I will share one of her most famous dishes with the family I can see.
This dish is one of my absolute favorites. It's easy to make, it's not super complicated with the seasonings and spices, and it's delicious. The key to making this the best it can be is to pluck the leaves of the parsley off of the stems. It's tedious, sure, but when you cook for the people you care about you want to make the best food you can right? So, don't skip it! Plus, nobody likes taking a bite of meat and catching a hard stem. After dealing with the parsley, cut some green onions into 1 – 2 inch pieces. Also, make sure that you don't use a food processor on the parsley and green onions at the same time! Green onion gets mushy and strange in the food processor and will alter the texture of the parsley which, once mixed with the meat and cooked, will change the texture of the Kufta.
Ingredients:
1 lb Midamar 80/20 Ground Beef
2 packages of Sno Pac Organic Cottage Fries
1 package of Sno Pac Organic Peas and Carrots
2 tsp Salt, divided
2 tsps ground black pepper (freshly ground is best, but whatever you have is fine)
1 bunch of fresh Parsley, leaves plucked from stems
1 bunch of green onions, whites removed and cut into 1 – 2 inch pieces
28 oz can of unsalted diced tomatoes, undrained
~2 Tbsps olive oil
Instructions:
1) Mix all meat in a large mixing bowl
2) In a food processor chop parsley until finely minced and add to meat. Next add green onion and chop until finely minced or until no large pieces of onion remain and add to meat.
3) Add 1 ½ tsp salt and pepper to the meat and mix thoroughly, once mixed set aside.
4) Fry Sno Pac Cottage Fries with 1 Tbsp olive oil. Once fried, set aside. Alternatively, bake potatoes according to package instructions.
5) Add remaining salt and pepper to diced tomatoes and set aside.
6) Add the meat to a large casserole dish and press flat. Add potatoes and create a layer, finally top with potatoes
7) Bake Kufta at 350° for 1 hour or until meat pulls away from sides of dish and browns.
8) Heat Sno Pac Organic Peas and Carrots according to package instructions and serve hot with Sitti's Kufta
That's it for us for this week everyone, I hope you all enjoy these recipes, and we'll see you next week for more great Halal Recipes! Follow us on Facebook and Instagram and subscribe to us on Youtube to check out all our great recipes!