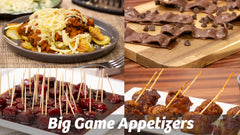 It's super bowl time, and that means it's time for some tasty halal appetizers! Given, Covid is still an issue right now so gatherings likely won't be happening as much, but that doesn't mean you can't have all the same tasty treats with the people you live with, or even just yourself! (although you may not want to make all of this for just yourself, but you do what makes you happy!) 
So this week we've got Spicy Sweet Meatballs, Chili Cheese Fries, Sweet BBQ Grillers (a take on the lil smokies I see posted every year), and… chocolate covered beef strips. I know; I know how it sounds but, my dad has been asking me to make this since before the first video of Cooking with Cass came out early last year so I thought now is as good time as any right? Plus, it's a sweet meaty treat for game day, WOOOO! Around the office it seemed that the spicy sweet meatballs were the winner, but everyone liked everything to some degree, which is nice for me as the person making all this stuff.
Did you try these recipes at home? Let me know on Facebook  and Instagram! Looking for a video tutorial? Check out the video below and subscribe to our Youtube channel to stay up to date on all cooking with Cass videos!
Ingredients for Sweet and Spicy Meatballs:
Midamar Halal fully Cooked Italian Style Meatballs (use as many as you have breakfast beef slices)
1 package Midamar Breakfast Beef, cut slices in half
1 cup Brown Sugar
2 tbsp Chili Powder
1 Tbsp Cayenne Pepper
Toothpicks
Instructions:
1) Wrap breakfast beef around meatball and secure with toothpick
2) In a mixing bowl combine brown sugar, chili powder, cayenne pepper. Whisk to combine
3) Dredge meatballs in spice mix, making sure to coat thoroughly and packing spices in any exposed spots
4) Place meatballs in a lined sheet pan and bake at 400° for 25-30 minutes or until breakfast beef reaches desired crispiness
Ingredients for Sweet BBQ Grillers:
1 package Midamar Campfire Grillers, cut into bite sized pieces
1 cup of Grape Jelly
1 cup your favorite Barbecue Sauce
1 Tbsp Brown Sugar
½ Tbsp Cayenne Pepper
Instructions:
1) Add all ingredients except campfire grillers to a slow cooker. Whisk to combine
2) Add campfire grillers and cook on low for 4-6 hours, stirring once ever hour
Ingredients for Chocolate Beef Strips:
1 package of Midamar Sandwich Style Beef Strips
2 cups dark or semi-sweet chocolate chips
½ cup of Coconut Oil
Wooden skewers soaked in water
Instructions:
1) Soak skewers in water for 5-10 minutes. Remove skewers from water, form beef strips into ribbons and skewer
2) place beef strips on aluminum foil lined sheet pan and bake at 400° for 20 – 25 minutes
3) Put chocolate chips and coconut oil in a microwave safe dish and microwave for 45 seconds. Remove from microwave and whisk until homogenous.
4) With a basting brush, paint the chocolate onto the beef strips. Refrigerate for an hour and serve cold
Ingredients for Chili Cheese Fries:
1 lb Midamar 80/20 Ground Beef
2 packages of Sno Pac Organic Cottage Fries
1 clove of Garlic, minced
8 oz Tomato Sauce
¼ tsp Cayenne Pepper
2 Tbsp Chili Powder
½ tsp Cumin
1 can of Kidney Beans
1 can of Pinto beans
1/8 to ¼ cup of water
Pepper jack or cheddar cheese block, shredded
Instructions:
1) Bake Sno Pac Organic Cottage Fries according to package instructions
2) In a dutch oven, or nonstick pot, brown the beef with garlic
3) Add tomato sauce and spices, stir to combine. Cover and Simmer for 15 minutes
4) Add beans and water (water used to loosen chili, if you like it thick use less water or omit entirely, if you use water consider adding more spice to your tastes). Cover and Simmer for 15 more minutes
5) Serve chili over cottage fries and top with cheese