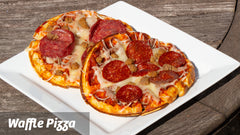 This week we're getting' a little wacky with the recipe and we're moving out of my comfort zone a bit with waffle pizza. Now, I'll be honest I've been watching a lot of Korean street food videos on YouTube in my spare time recently and when I saw waffle pizza I thought, "that could be gross. Or, it could completely change ever preconceived notion I held about pizza!" And with that, I grabbed my Indiana Jones hat and headed off toward adventure. In this case "Adventure" was the grocery store for some flour. I left oil out of this recipe because I like my waffles a little soggy, but if you want them to have a nice crispy exterior then I'd add ½ cup of vegetable oil. These waffles were great. I've been thinking about making them again just like a little waffle-y addition to dinner sometime, but I digress. The best part about these pizzas though is Midamar's Halal toppings. Growing up I loved cheese pizza but when I got to be a teenager, I wanted some variety to my pizza, but the beef options were usually not Halal. But now I can get pepperoni, salami, *and* beef pizza topping. All beef, All Halal. That makes pizza night far more exciting for me and I'm sure it will for your family too!
Ingredients for the waffles:
Midamar Halal Beef Pizza Topping
2 Cups flour
2 Tsp baking powder
1 Tsp baking soda
1 Tsp garlic salt
1 Tsp dry parsley
1 Tsp rosemary
1 Tsp thyme
2/3 Cup light sour cream
1 ½ Cup freshly shredded gouda (pre-shredded works fine)
1 lb block of low moisture mozzarella, shredded
2 Cups butter milk
3 Large eggs
½ Cup vegetable oil (optional: for softer waffles omit this)
Ingredients for the pizza sauce:
1 Can tomato sauce
½ Can of tomato paste
1 Tsp of Italian seasoning
Instructions:
1) Separate egg yolks and egg whites and set aside
2) In a mixing bowl combine all dry ingredients and mix well. Add in shredded gouda and stir
3) In a bowl combine all pizza sauce ingredients and stir to combine, set aside
4) In a separate bowl, combine butter milk, sour cream, and egg yolks. Mix to combine
5) Pour wet mixture into dry mixture and mix well, making sure no clumps are remaining
6) In a separate bowl, pour in egg whites. Using a hand mixer with a whisk attachment whisk the egg whites until hard peaks form, about 5 minutes
7) Pour egg white into batter and fold to combine
8) Pour batter into greased waffle iron and cook as directed for your iron
9) Remove cooked waffles to a cookie sheet and brush with sauce, top with mozzarella and top with Midamar Salami, Pepperoni, and Beef Pizza Topping
10) Bake at 350° degrees for 10 minutes or until cheese is melted and waffles are golden brown
11) Enjoy!
That's it for me this week, check us out on Facebook and let us know if you made this and how you made it your own! Be sure to check us out on Youtube and follow us on Instagram as well to keep up on all of our delicious Halal recipes. Thank you from all of us Midamar!