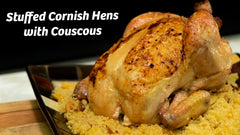 Cornish hens have been extremely popular since we added them, so let's make another tasty recipe! This week we're stuffing our cornish hens with an apricot couscous sweetened with honey and spiced with cinnamon. Additionally, these hens are glazed with pure honey to give the exterior a nice crispy exterior.
Did you make this recipe? We want to know! Tag us in posts on instagram and facebook to let us know what you thought of this recipe! If you'd like to see this recipe in video form, click here otherwise find the full written recipe below!
Ingredients
¼ cup sliced almonds
½ cup chicken broth
¼ cup dried apricots (chopped)
Salt
½ cup couscous
1 ½ tablespoons butter
2 ½ teaspoons honey (or more if needed)
¼ teaspoon ground cinnamon
Fresh-ground black pepper
2 Cornish hens
1 tablespoon cooking oil
3 tablespoons water
Instructions:
1) Toast nuts in a pan over low heat, mixing constantly. Once golden brown, remove from pan and allow to cool.
2) In a saucepan, combine broth, apricots, and salt. Bring to a simmer, remove from heat, stir in couscous. Cover and let sit for 5-7 minutes. Fluff with fork. Add 1/2 tbsp butter, 1 1/2 tsp honey, cinnamon, salt and pepper to taste, and stir again with fork until butter is melted.
3) Fill the cavities of the cornish hens with couscous mixture and tie legs together with butchers twine. Cover the hens in vegetable oil and place in a baking dish. Salt and pepper to taste.
4) Roast hens for 25 minutes at 425°, remove from oven, baste with juices and coat in remaining honey (or more if desired). Continue roasting for  10-15 minutes or until golden brown.
5) Remove from oven and let rest for 5 minutes. Serve with remaining couscous and enjoy!