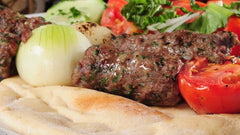 Kefta is ground beef or lamb, typically mixed with cumin, paprika, minced onion, coriander and parsley.  Our recipe includes a finely chopped small onion, fresh parsley chopped, salt, ground allspice, and ground black pepper.  We recommend adjusting your spices and herbs to your taste.  
This seasoned ground beef or lamb kefta mixture is formed into a skewer and can be baked or grilled.  Serve with a Mediterranean Salad, Hummus, a side of couscous as well as served on a flat bread.  
Ingredients:
  1 pound of Midamar Ground Beef or Ground Lamb
  1 small onion finely chopped
  4-6 stems of chopped fresh parsley
  1 teaspoon salt
  1/2 teaspoon ground allspice
  1/2 teaspoon ground black pepper
  28 bamboo skewers, soaked in water for 30 minutes
INSTRUCTIONS:
Mix the lamb or beef with the onion, parsley, allspice, salt and pepper in a mixing bowl until well blended. Form the mixture into 28 balls. Form each ball around the tip of a skewer, flattening into a 2 inch oval; repeat with the remaining skewers.


Place the kebabs onto a baking sheet, cover, and refrigerate at least 30 minutes, or up to 12 hours.


Preheat an outdoor grill for medium heat, and lightly oil grate.


Cook the skewers on the preheated grill, turning occasionally, until cooked as desired. Serve with Mediterranean Salad, Hummus and Flat bread.