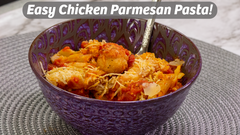 Chicken parmesan is a classic, I see it on tv all the time and it's one of my favorite recipes at a local halal restaurant. Now, in the past we've made a chicken parmesan recipe, but that was part of our campus cooking video. This version is just as easy, but it's a little harder to make in a dorm room. The instructions on our chicken tenders say to cook them for something like 11 minutes in the oven. That's a fine amount of time, especially because they're already fully cooked, but I personally like my tenders a little crispier, so I like to let them cook for maybe 20 minutes, flipping once halfway through. This way, each side of the breading loses a little more moisture while the chicken itself doesn't get over cooked and dry. That crispier breading also helps this general recipe.
Now, if you like a lot of sauce I would suggest using 1 ½ - 2 jars of marinara. However, with this particular recipe I prefer it to have a little less sauce, so I went with 1 jar. Part of the reason for that is the crispness we talked about. I really like having the crunch of the chicken tender with the sauce and cheese, I'm not a of mushy breading. Using the amount of marinara that I did allowed for the breading to absorb some of the sauce and soften while still retaining some of the crispness deeper in the breading. If you do use more marinara I would I highly recommend that you cook the tenders for around 20 minutes. If you don't, there is a very good chance that the breading will get too moist and fall off of the chicken, which is truly a tragedy for this recipe.
Finally, I would serve this a few things. Garlic bread, or cheesy garlic bread, are classics but we need some vegetables and that's where Sno Pac comes in. We sell a large variety of high quality, organic Sno Pac vegetables on our site. I would suggest the classics for this: corn, peas, or mixed vegetables would all be great with this pasta. I personally prefer mixed veg and peas and carrots myself, but all the Sno Pac items are great. That's why we sell them!
That's it for me this week, if you want to see me make this click the video below or keep scrolling for the full recipe!
Ingredients:
1 box of Midamar Chicken Tenders, baked according to pack instructions, cut into bite size pieces
1 box Penne pasta, cooked al dente (still kind of hard)
1 jar of Marinara
10 oz Shaved Parmesan
1 ½ tsp Parsley
½ tsp Basil
½ tsp Oregano
¼ tsp Rosemary
Salt and Pepper to taste
Shredded Parmesan
Italian Style Breadcrumbs
Instructions:
1) Combine the first 9 ingredients and mix well, making sure to spread the chicken as evenly as possible
2) Top with shredded parmesan and breadcrumbs
3) Bake at 350° for 10-15 minutes or until breadcrumbs are golden brown, remove from oven. Let cool then serve with garlic bread
That's it for me this week, check us out on Facebook and let us know if you made this and how you made it your own! Be sure to check us out on Youtube and follow us on Instagram as well to keep up on all of our delicious Halal recipes. Thank you from all of us Midamar!