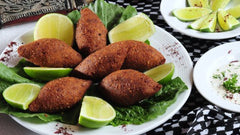 2 cups bulgur
2 lb. Midamar ground lamb or ground beef
1 cup finely chopped yellow onion
1/2 tsp ground allspice 
1/2 tsp ground black pepper
1 1/2 teaspoon of salt
vegetable oil for shallow frying
Filling

1 tbsp olive oil
1 lb. ground lamb or beef
1/4 cup chopped onions
1/2 tbsp pine nuts
1/4 tsp allspice
1/2 tbsp pepper
1/2 cup parsley
2 tablespoons of butter
1 teaspoon of salt
Instructions
1. Place bulgur in a bowl and pour cold water to cover. Keep for about 15 minutes. Drain and rinse under cold water, and squeeze well to remove the moisture.
2. Make the Filling: – Heat oil in a small frying pan, add the onions and cook till soft, add the pine nuts and cook till they start to brown. Add the spice powders, salt, and meat and stir until fully cooked. Remove from the stove and set aside to cool
3. Add the bulgur, 2 lb. of ground lamb or beef, chopped onions, and the spices to a large bowl and mix well to combine. Add a little water if necessary.
4. Shape the mixture into equal sized balls, this will make about 16 balls. Insert your thumb to make a hollow space in the ball, place the filling in the hollow and flatten out the balls and shape into ovals so that the filling is completely covered.
5. Heat vegetable oil in a frying pan and shallow fry the Kibbeh balls till all the sides are browned and the meat is cooked through. Serve with salad and yogurt sauce.