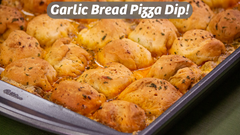 It's the last day of the year, happy new years everyone! I've got a nice, simple, dip recipe for you today. Is it as easy as other dips? No, but I ask, would you have looked at this recipe if it was something regular? 
The beauty behind this recipe is it's versatility. You can switch the beef topping out with pepperoni, meatballs, salami, or any of the other Halal pizza toppings that we sell here at Midamarhalal.com! 
Let's get into the recipe! Check the vid below to see me make this or keep scrolling for the recipe.
ingredients:
Midamar pizza toppings (I used beef topping, but pretty much anything will work)
2lbs mozzarella, freshly shredded, divided in half
1/2 cup parmesan, shredded
2 packages cream cheese, at room temp
2 tbsp Italian seasoning
1/2 tbsp red pepper flake
2 cups ricotta, loosely packed
1 jar pizza sauce (or about 12 oz if using homemade)
2 tubes pillsbury grands, biscuits removed, cut in half, and rolled into little balls
1/4 cup olive oil
2-3 large cloves garlic, minced
1/2 tbsp parsley
instructions:
1) Combine cheeses and seasonings in a large mixing bowl. Using a spatula, combine thoroughly. Place in a deep pan.
2) Cover cheese mixture with sauce, cover with remaining 1 lb of mozzarella, pizza topping of choice, and finish topping with biscuits.
3) In a small mixing bowl combine olive oil, parsley, and garlic. Using a basting brush, paint oil mixture over biscuits.
4) Bake at 350° for 45 minutes. After 45 minutes, remove from oven, cover with tin foil, bake for 15 more minutes. Remove and serve