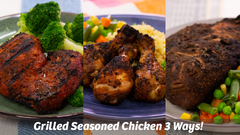 This week we have a real treat, grilled chicken breast, thigh, and drumsticks all coated in delicious seasoning from Halal BBQ Pitmasters which is now available under the seasoning tab!
In this video we took Halal chicken, rubbed it in 3 different seasonings and served it with wholesome organic vegetables to create a pleasant and fulfilling meal. This time I decided to go with Texas Tandoori on the thighs, Teri Peri on the drums, and Mandi Rub on the chicken breast. And I gotta say, it was awesome. Between having the taste of the vegetables with seasoning on the meat my family and I were extremely satisfied with this whole meal.
I wish I could pick a favorite amongst these seasonings but I love them all for different reasons! I like the tandoori because it has a light citrus taste with the heat you'd expect from a tandoori. I like the Teri Peri because it has the heat from Peri Peri chiili, also known as the bird's eye chili, but it's also got a teriyaki. I like the Mandi because... well because it tastes really good. And these spices are versatile, the pair well with chicken and beef or they can be used in rice to give the rice a nice flavor as well. 
Keep your eyes peeled because we're going using these in videos in the future, and who knows? Maybe we'll even keep expanding the store...
But that's all I've got for today! Click below for the full video or keep scrolling for the written recipe.
Ingredients:
Halal BBQ Pitmasters Texas Tandoori
Halal BBQ Pitmasters Mandi Rub
Halal BBQ Pitmasters Teri Peri
Sno Pac Organic Mixed Vegetables
Instructions:
1) Rub each chicken part down with desired seasoning, being sure to cover as much of the surface as possible. On the chicken breast, add 2 – 3 Tbsp neutral flavored oil (vegetable or canola) after the seasoning is applied.
2) Cook chicken on a grill, check temperature in the thickest part of the meat, when the temp registers 170° Chicken is thoroughly cooked.
3) Serve with Sno Pac veggies and rice pilaf
That's it for me this week, check us out on Facebook and let us know if you made this and how you made it your own! Be sure to check us out on Youtube and follow us on Instagram as well to keep up on all of our delicious Halal recipes. Thank you from all of us Midamar!