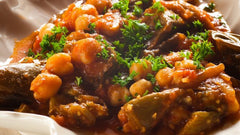 Ingredients
1 lb Midamar Halal Beef Stew Meat

1 pound okra (can be frozen or fresh)

16 oz canned crushed tomatoes

 4 tablespoons tomato paste

1 medium onion, chopped

2 cloves garlic, crushed (or 2 teaspoons of garlic powder)

1/2 teaspoon cumin

1 teaspoon coriander

2  teaspoons allspice

8 cups of water

salt and pepper to taste

2 tablespoons olive oil

½ cup of canola oil (or any vegetable oil)

8 oz can of chickpeas
Preparation:
Flash fry okra in canola oil in a frying pan until lightly browned. Remove and set aside. (Frying okra keeps it from getting slimy. If you like the natural taste and texture of okra you don't have to fry it. )
Brown Halal beef or lamb 2 tablespoons olive oil. Add onions and garlic.
Add crushed tomatoes, stirring well with meat, garlic, and onion. Add cumin, coriander, salt and pepper, and allspice. Add water and tomato paste. Stir well for 1-2 minutes.
Add okra and simmer on medium-low heat for 30 - 40 min. Add chickpeas 10 minutes before serving.  
The sauce should thicken as it cooks.  Serve over rice.