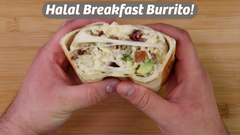 Happy Friday everyone! You know what time it is? Burrito time. Breakfast burritos seem to all around me recently, I've seen ads at gas stations, restaurants adding them to their menus and I thought, "Have we ever made one for recipe videos?" Much to my dismay, we hadn't. So, I have remedied that situation with what I think is possibly my favorite iteration of the recipe.
This time I decided to go with Midamar's beef bacon, but I would try it again with our breakfast sausage links as well. I also threw in some lightly seasoned hash browns from Sno Pac, some Monterey Jack cheese, and I made a chunky avocado salsa with just enough heat to wake me, and hopefully you, up. I also just want to mention here that if you don't like spicy, or don't want any heat in this particular meal, leave out the hot sauce. I encourage everyone to use the ingredients list here more as a loose guide, anything you want to add or remove should be fine. I personally think that next time I might add some cotija cheese, that seems to compliment lime well and would add some traditional Mexican flavor to this recipe. One final note I want to give here is to resist the urge to *really* stuff the burrito. I over-stuffed the first burrito I made for this video and it ended up bulging and tearing open. If you keep it slightly less filled than you think it should be, you most likely will end up with the perfect size.
That's it for me! I hope you enjoy this breakfast recipe, click the video below to see me make this or keep scrolling to get the full written recipe.
Ingredients:
1 package of Midamar Beef Bacon, fried and cut into large strips
2 avocados, cut into bite sized chunks 
1 tomato, seeds removed and cut into small bite sized chunks
1 small jalapeño, seeds removed and flesh cut into small pieces
2 tsp cumin, divided
1/8-1/4 cup lime juice (use at least 1/8, use more to taste)
1 tsp preferred hot sauce (I used el yucateco)
salt and pepper to taste
1/2 package Sno Pac Organic Hash Browns
1 tbsp butter
6 eggs
4 extra large tortillas
1 lb Monterey Jack cheese, freshly shredded melts best (divided)
Instructions:
1) Lightly mash avocados in a medium size mixing bowl add tomato, jalapeño, 1 tsp cumin, 1/8th cup lime juce, hot sauce, salt, and pepper. Mix thoroughly, taste mixture and adjust lime juice and hot sauce to taste.
2) Fry bacon, remove and cool. Drain about 3/4's of bacon fat. Return pan to the burner and add 1/2 half a package of Sno Pac hash browns. coat hash browns in bacon fat, then add butter, salt, and pepper. Fry until slightly crispy, remove from pan and cut bacon into small strips.
3) Place eggs in a medium mixing bowl, add remaining cumin, whisk thoroughly to combine. Optionally, add 1/4 cup milk for more fluffy eggs. Place whisked eggs in pan over medium low heat and cook slowly. Mix eggs infrequently for larger curds or cook according to your preferred scramble.
4) On a large cutting board place 1 warmed tortilla, ~1/2 cup cheese, 1/4 cup hash browns, 1/4 cup bacon, thin layer of avocado mixture, 1/4 cup eggs, another thin layer of cheese. Fold both ends of tortilla over the filling then tightly wrap. Repeat for more burritos
5) Place burritos in a pan and brown both sides. Heat in oven for 5-8 minutes  at 425° to make sure cheese is melted. Alternatively, wrap in parchment paper and freeze. Reheat in the oven or microwave.