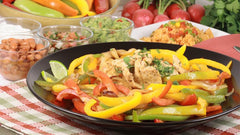 SERVING SIZE:  6 Servings
INGREDIENTS: 
 

1 tablespoon vegetable oil

 

6 (6 ounce)  Midamar Boneless Chicken Breast halves, thinly sliced

 

1/2 cup sliced onions

 

1/2 cup sliced green pepper

 

1/2 cup sliced yellow pepper

 

1/2 cup sliced red bell peppers

 

2 tablespoons of olive oil

 

1 teaspoon of pepper

 

1 tablespoon of seasoned salt

 

1 teaspoon chili powder

 

1 clove garlic, minced

 

1 dash hot pepper sauce

 

1/2 lemon, juiced
INSTRUCTIONS:
In a medium bowl, combine olive oil, pepper, seasoned salt, chili powder, garlic and hot pepper sauce. Place chicken in sauce, and turn once to coat. Marinate for 30 minutes at room temperature, or cover and refrigerate for several hours.

Heat oil in a large skillet over high heat. Add chicken strips to the pan, and sauté for 5 minutes. Add the onion and peppers, and sauté another 3 minutes. Remove from heat, and sprinkle with lemon juice. Serve with Mexican rice, salsa and guacamole.