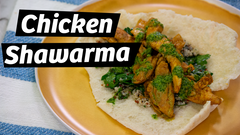 Now, I've never met someone who didn't like gyros and/or shawarma. I love it, my friends love it, you love it*. But sometimes, I don't want to go out. Sometimes, I want to sit at home with my sandwich and watch a movie or play some board games with friends, or just enjoy a relaxing meal at home. The tragedy of that desire is that it often requires going to a sit down restaurant or, at the very least, a fast food carry out. Which throws a wrench in the whole plan for me, so instead, I've looked at some recipes online and I've found a way that I can add some uniqueness to something I already loved, and it's relatively simple too, which is just nice.
First, we slice our chicken breast and thigh into thin strips, pop it into a zip top bag, cover in Wild Garden Shawarma marinade for half an hour, fry it up, and boom. Done-zo. However, if you want to get a lil crazy like I did this time around, you could make your own quinoa tabouleh and some hot sauce. So, to call this tabouleh is kind of bold in my opinion, it's mostly quinoa, which is fine. Adds an extra bit of healthiness to our sandwich. Plucking the parsley leaves does take about 10 - 15 minutes for one person for one bunch of parsley, but I really think that it's worth it. It's relatively minimal work for something that pulls the whole sandwich together really well. Then, we have the hot sauce, now you can use premade if you'd like but sometimes I like to try my hand at making this kind of stuff. After plucking another bunch of parsley and cilantro, I can definitely understand skipping this step but, you're missing out. 
If you're like me, cilantro is nasty. Tastes like soap to me, but, it's not as intense as I thought. The other flavors help pull the strong cilantro taste out and, when eaten by it's self, this sauce is spicy. like more than I usually care for, but on the sandwich? It's awesome. It bring a little bit of freshness with leafy herbs with nice tinge of spicy, not enough to burn you but, just enough for texture. All in all, I think it was worth the time it took to make all this. 
And I think that's a good spot to stop! If you want to see me make this, check the vid below or keep scrolling for the full recipe. Oh, and while you're here, check us out on Instagram, Facebook, and Tiktok!
 Ingredients for the chicken:
1 lb chicken breast, sliced thin
1.5 lb chicken thigh, sliced thin
1 package of Wild Garden Shawarma Marinade (available under the  grocery tab!)
Ingredients for the quinoa tabouleh:
1 cup Tri-colored Quinoa
1 1/2 tsp salt (divided)
pepper to taste
2 cups of water
1 bunch of parsley, stems removed
1 bunch of mint leaves, removed from stems
1/3 cup Lemon Juice
1/4 cup Olive Oil
Ingredients for the hot sauce:
1 bunch of flat parsley, stems removed
1 green bell pepper, seeded and roughly chopped
5 green onions, roughly chopped
3 serrano peppers, broiled for 2 minutes on each side and skins removed
1  tsp coriander
1 tsp ground cardamom
1 tsp salt
1/3 cup lemon juice
1 bunch of cilantro, stems removed
1/2 cup canola oil
1 jalapeno, seeded and roughly chopped
3 medium garlic cloves, roughly chopped
Instructions:
1) Place chicken and marinade in a zip top bag, marinate for 30+ minutes
2) Place quinoa in pan with 1 tsp salt and 2 cups water. Bring water to a boil, remove from heat and cover for 20 minutes. After 20 minutes, check if all quinoa is fluffy, if not, add 1/4 cup water and place over medium heat. Cook until all quinoa is prepared. Remove cooked quinoa to a large pan, spread thin and let cool.
3) Once quinoa is cool, place in a large mixing bowl with remaining tabouleh ingredients and mix well using gloved hands
4) In a food processor or high powered blender, combine all ingredients for hot sauce and blend 5 times until smooth, adding water as needed.
5) Remove Chicken to a pan and fry until thoroughly cooked.
6) Serve chicken on a pita with tabouleh and hot sauce
*You can dislike shawarma, but come on, it's tasty