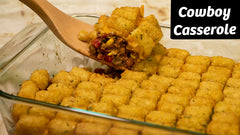 Here in Iowa we've officially had our first snow fall, which means it's casserole season! 
This week, we're taking advantage of Midamar's fully cooked taco seasoned beef to make this dish even easier to make. We've seasoned it perfectly so all you have to do is heat and eat! 
 If you want to see this recipe be made, check out our video here!
Ingredients:
1-2 lbs of Midamar Taco Seasoned Beef Topping
2 lb vegetable oil
2 cloves of garlic, thinly sliced
1 medium yellow onion, chopped
half a can of pinto beans
half a can of black beans
28 oz can fire roasted tomatoes
2 4 oz cans of green chilies 
1/4 cup sour cream
3/4 cup shredded cheese, more to taste
hot sauce to taste, or 1 tsp
1 package of sno pac organic corn, available here
1 bag of tater tots
Instructions:
1) Heat 2 tbsp of oil over medium heat. Add onions and cook until translucent, about 5 minutes. Add garlic and cook until fragrant, about 1 minute. Add Midamar Halal Taco Seasoned Beef and cook until heated through.
2) Add beans, tomatoes, chilies, sour cream, and 1/2 cup cheese and cook until sauce thickens and cheese is melted, about 5-8 minutes. Stir in Sno Pac organic corn and transfer to a baking dish.
3) Cover with aluminum foil and bake for 30 minutes. Remove aluminum foil and cook for 20 more minutes. Let cool for a few minutes and enjoy!