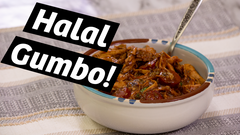 Happy Friday everyone! This week, I decided we should make something that we usually can't eat: gumbo. Normally, gumbo calls for andouille sausage, but usually we can't eat that. In place of andouille we're using Midamar's bun length hot links. Is it the same flavor profile? I haven't had halal andouille sausage so I can't say for sure, but it seems like it should be a kind of spicy type sausage, so we've got that covered!
The next thing I want to mention is the dry roux. To make a dry roux we're going to be baking flour for about 45 minutes or until it looks like ground cinnamon. Now, when I was making this, my dad and my brother came to check to make sure I wasn't burning anything at least 7 times. It will smell a little like burnt popcorn, but I assure you that if you are following the instructions I leave below, you won't be burning it. 
Essentially, all you have to is let 1 cup of flour bake for 10 minutes, whisk it, and come back every five minutes to give it a whisk. To make that easier, because I lost track a couple times, I've made a little chart below.
check after10 minutes and whisk - total: 10
check after 5 minutes and whisk - total:15
check after 5 minutes and whisk - total:20
check after 5 minutes and whisk - total:25
And so on until you've done this for a total of about 45 minutes or so. In the meantime, I prepared vegetables and other ingredients. After the flour has baked, remove it to a mixing bowl and let cool until you can handle it, and boom! You have yourself a dry roux. It adds a nice smokey flavor to whatever you decide to use it in as well as thicken it up. 
Other than that, serve this over rice and enjoy!
Ingredients:
1 cup flour
1 tbsp vegetable oil
1 onion, finely chopped
1 green bell pepper, finely chopped
3 celery ribs, finely chopped
3 tbsp thyme
3 cloves garlic, finely chopped
1 tsp paprika
2 bay leaves
1/2 tsp cayenne pepper
salt and pepper to taste
4 cups chicken broth, divided
2 trays of chicken thighs from Midamarhalal.com
1 package of bun length hot links, sliced into bite sized pieces
6 green onions, sliced thin
1 tsp distilled white vinegar
hot sauce as desired
Instructions:
1) Place oven rack in center position and heat to 425°. Place flour in a pan and place in heated oven, cook for 45 minutes. Whisk after 10 minutes, then return every 5 minutes until flour is dark brown.
2) Heat oil in a Dutch oven, add onion, pepper, and celery and cook until tender, about 5 minutes. Stir in thyme, garlic, paprika, bay leaves, cayenne, salt, and pepper and cook until fragrant, about 1 minute. Stir in 2 cups chicken broth and place chicken, chicken will be sticking out of broth. Bring to a simmer, cover with lid and cook until chicken is tender, about 15-20 minutes. Remove chicken to a plate and shred.
3) Whisk remaining chicken broth into flour in batches until a thick batter forms. Increase heat to medium heat and whisk batter into broth in increments making sure batter is completely incorporated before adding more batter. Add hot links and simmer uncovered for 20-25 minutes.
4) Add the shredded chicken, green onions, and vinegar back to the pot. Stir to incorporate. Remove bay leaves and serve over rice. Add hot sauce as needed.