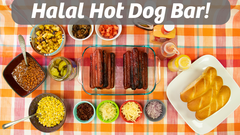 Look, I love hot dogs or franks or whatever they're called. I'm the son of meat company owner, so of course I do, but check it out man, I wouldn't eat them if I didn't love them, okay? More importantly, I've had friends who aren't muslims and they told me, "Cassem, I don't like hot dogs, what else can I eat?" and I tell them, "There is nothing else, only hot dogs." So, they give it a try and then they tackle a few more before the night is done because, and I'm going to say it because clearly, I am passionate! These are the best hot dogs around, bar none. This is my personal view, and am I biased? Almost certainly, but am I right? I mean… yeah. I am.
Joking aside, I do love hot dogs for their ease of preparation and because hot dogs really make for the perfect get together or grill out food. You can lay out some basic toppings, or elaborate ones like the elote salad below, and someone will love it. Simplicity is the essence of perfection, and no meat product describes that phrase more than a hot dog. At least in my opinion!
All that said, check out our video for some of my favorite toppings for Midamar's hot dogs or keep scrolling for a couple recipes and a grill out list!
Ingredients:
2 packages premium Beef Franks
2 packages bun length Hot Links
1 package of Midamar Hickory Smoked Breakfast Beef, cooked crisp and cut into bits
Pineapple slices, grilled (can be canned or fresh cut)
Vegetarian Baked Beans
Sliced Pickles
Diced Roma Tomatoes
Sauerkraut
White Cheddar
Diced Shallot
Caramelized Onions
Ketchup
Mustard
Thousand Island Dressing
Honey Barbecue Sauce
Hot Dog Buns
Ingredients for  Elote Salad:
1 Tbsp fresh chopped cilantro, optional or add more if you like cilantro, I wouldn't suggest more than 2 Tbsp
2 Tbsp Cotija Cheese
1 Tbsp Lime Juice
½ tsp Pepper
¼ tsp salt
Instructions:
1) Cook Sno Pac Corn to package instructions then combine all Elote salad ingredients in a bowl
2) Prepare all ingredients and Grill Midamar franks and links for about 5 minutes per side or to desire doneness
That's it for me this week, check us out on Facebook and let us know if you made this and how you made it your own! Be sure to check us out on Youtube and follow us on Instagram as well to keep up on all of our delicious Halal recipes. Thank you from all of us Midamar!