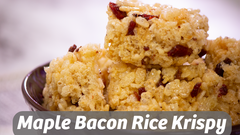 Who doesn't like treats? And who doesn't like our bacon? Not anyone I've met! So we decided to combine them. A couple weeks ago we made bacon s'mores which, as strange as it is, was a hit around the office and this week we're bringing the sweet smokey flavor to a sticky treat: the rice krispy.
Now when I was kid, I always wanted to try these but it was never made with marshmallows I could eat, and now, at the ripe young age of 28, I finally get to have them. I gotta say, pretty tasty! Especially with the maple and halal bacon to give some breakfast vibes to this snack. And I wasn't alone in love of this treat. As is tradition when I film here I get to share it with the office and only one person didn't try it. He just doesn't like sweet meats, which is fair. But this really is a simple treat for family get-togethers or even to give some sweet fun to your weekend! Not to mention that we sell 3 different kinds of Ziyad Brand Halal Marshmallows and the halal bacon to boot!
If you want to see how I made this watch the video below or keep scrolling for the full recipe!
Ingredients:
5 strips of Midamar's Halal Breakfast Beef
2 tbsp butter
1 bag of Ziyad mini Halal Marshmallows (available on Midamarhalal.com!)
3 Tbsp Maple Syrup
6 cups rice Krispies
Chocolate chips or chocolate chunks (optional, I didn't do this but I bet it'd be delicious)
Instructions:
1) Fry 5 strips Midamar's Halal Beef Bacon, pat dry and cut into small bite sized pieces.
2) In a non-stick skillet melt butter over medium heat, add mini halal marshamallows and cook until marshmallows are melted. Add maple syrup and bacon bits, stir continuously and cook for 3 more minutes.
3) Place Rice Krispies in a large mixing bowl and add marshmallow mixture. Combine thoroughly.
4) Grease a deep pan with non-stick spray, place marshmallow krispies in pan, form to desired shape and let cool at room temperature for 2 – 3 hours.
5) Serve and Enjoy!
That's it for me this week, check us out on Facebook and let us know if you made this and how you made it your own! Be sure to check us out on Youtube and follow us on Instagram as well to keep up on all of our delicious Halal recipes. Thank you from all of us Midamar!