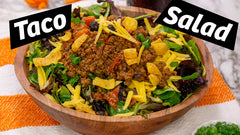 Today we're looking at one of the many uses our new Halal Taco Seasoned Beef Topping has: the taco salad! Now, taco salads are relatively easy things to make on their own. Grab some salad, cook ground beef and season it with taco seasonings, mix together, boom, done-zo. We at Midamar have decided to remove a step with our new taco seasoned beef topping: the cooking! All you have to do is heat the meat and you're good to eat. This product is perfect for easy burritos, tacos, enchiladas, tostadas, and taco salads.
To start, our taco seasoned beef topping, which I'm going to refer to as taco meat from now on, is fully cooked. All you have to do is heat up however much taco meat you need or want and your ready to go! I personally love it for a quick and easy lunch on the weekend or an easy taco dinner. Because it's already well seasoned, we don't really have much to do for this recipe. We toss in fire roasted tomatoes, black olives, and some black bean salsa and cook it for a few minutes to make sure all the flavors are mixing well.
From there, it's extremely simple, put about half of it in with your salad of choice, mix it up, place in a bowl or hard-shell taco bowl, top with more taco meat and enjoy!
If you want to see a quick video on how I made this, click here or keep scrolling for the full recipe!
Ingredients:
1-2 lbs of Midamar Taco Seasoned Beef Topping
1/3 cup Black Bean Salsa
1/3 cup Black Olives, optional
1 can of Fire Roasted Tomatoes
16 oz Salad Mix of choice
10 oz Medium Cheddar, freshly shredded
Corn chips, doritos, or chip of choice optional
Instructions:
1) In a large pot or pan, place Taco Seasoned Beef Topping over medium heat and warm until no longer frozen, about 3-5 minutes. Add black bean salsa, olives, tomatoes, mix, and cook for about 5 minutes or until taco meat mixture is hot. Remove from heat and let cool for 5 minutes
2) In a large mixing bowl combine half of the taco mixture with the salad, cheese, and chips. Toss until well incorporated. Place taco salad in a bowl, top with more taco meat and ranch if desired and serve
That's it for me this week, check us out on Facebook and let us know if you made this and how you made it your own! Be sure to check us out on Youtube and follow us on Instagram as well to keep up on all of our delicious Halal recipes. Thank you from all of us Midamar!