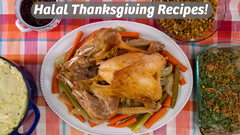 It's thanksgiving! I love this time year. Orange is my favorite color, and I love seeing the trees change into the reds and oranges. You know what else I love that involves reds and oranges? Cranberry sauce. Which I didn't know I liked until I made it this time. As for the turkey, this recipe is one my dad has made every year, presumably, since I was born. When I think of turkey, this is the flavor I imagine. It's juicy and flavorful, plus because we cook it on bed of onions, carrots, and celery, it has a robust and well-rounded flavor that compliments mashed potatoes, stuffing, and yes, cranberry sauce.
Not to mention rolls. My little brother was upset that I didn't throw some rolls into the pictures, my bad, Laith. If you do have rolls though, you can always make a family favorite of ours that we lovingly call, "The Jalel-wich." You split a roll in half, create a base of mashed potatoes, add stuffing, turkey, gravy, corn, whatever else you'd like, and then the top half of the roll, in that order. While my uncle may not have created it himself, in our house, it holds his name.
In this time of year we all like to be thankful, so I'd like to extend my thanks, and Midamar's thanks, to all of you. Everyone of our customers, whether it be for your family or for a business, are the reason that we're here. It's the reason that I get to come in and do what I love everyday with my dad and my brother. Because of you, we all get to see each other every day, and that's a gift to be grateful for.
I hope you all get to have a great thanksgiving and happy new year! Be sure to check out the recipes below or click the video if you want to see how I made this.
Ingredients for the turkey:
1 Midamar Halal Premium Turkey
Lawry's Seasoning Salt
8 oz butter, cut into thin strips
Olive oil
2 ½ small yellow onions, quartered and layers separated
1 bag of celery, cleaned and with ends removed
1 bag of carrots, cleaned, peeled, and cut
1 roasting bag (Reynolds makes a roasting bag that is sized for turkeys)
Ingredients for the Cranberry Sauce::
2 packages of Sno Pac Organic Cranberries
1 cup of water
½ cup orange juice
1 cup + 2 Tbsp sugar
Juice and zest of one orange
Ingredients for the Green Bean Casserole::
3 packages of Sno Pac Organic Cut Green Beans, cooked and drained
2 cans of Cans of Cream of Mushroom Soup
2 tsp soy sauce
1 cup of milk (whole or 2%)
Pepper to taste (I used about ½ tsp)
1 package of French Fried Onions (you may need two packages, just depends on the size)
Instructions:
1) Remove turkey from packaging and remove the neck. Break both thighs and turkey so the breast is facing upwards. Carefully separate the skin from the flesh. Either lots of lawrys seasoning in a bowl or have someone pour the seasoning in your hands, cover as much of the flesh with seasoning salt as possible. This will take several attempts. Use lots of seasoning. Next, place the slices of butter under the skin, be sure to place 1 at the top, 1 at the middle, and 1 at the bottom of each breast. Place any remaining butter on the legs and thighs or wherever you can make room.
2) pour about ¼-1/2 cup olive oil into your hands or on the turkey. Using your hands, massage the oil into every part of the surface of the turkey. Then coat the outside of the turkey with more seasoning salt (for clarity, the first time is under the skin, the second time is on top of the skin)
3) Once turkey is seasoned and your hands are clean, grab a roasting pan (if you use the disposable ones you will need 2 or 3 or it will fold and the turkey could drop). Place the roasting bag in the pan and open the hole. Place the onions on the bottom of the bag, spreading across the whole bottom. Next, place the turkey inside the bag and surround with carrots and celery. Pull the slack of the bag to end, twist it tightly and secure with the provided tie. Next, use a knife or kitchen shears to cut 3 small holes in the top of the bag.
4) Certain Thermometers can be used throughout the cook time, if using on, stick the thermometer into the thickest part of the turkey and place in a pre-heated oven at 350°. If using a different thermometer, check periodically. Once turkey reaches an internal temp of 165° it is ready. In the meantime prepare the cranberry sauce and the green bean casserole
5) In a large pan combine cranberries, water, orange juice, sugar, and the juice of the orange and bring to a soft boil. Cover and stir occasionally for 15 minutes. Once heated through, pop any remaining berries and stir until slightly thickened. Remove to a serving bowl and let cool. Place in the fridge and serve once chilled.
6) In a large mixing bowl combine the cream of mushroom soup, milk, soy sauce, pepper, and green beans. Stir thoroughly to combine. Pour half of the mixture into a 9x13 baking pan. Cover with French friend onions, pour remaining green beans, and cover with remaining French fried onions. Bake at 350° for 30-35 minutes or until heated through. (I put the second rack in the oven above the turkey to cook this)
7) Once Turkey is cooked through, remove to a platter, plate with vegetables and serve with casserole, cranberry sauce, mashed potatoes, and stuffing.
OPTIONAL:
I didn't show this in the video but, my grandmother would make mashed potatoes this way and my whole family makes it every year. Recipe follows:
3 – 5 lbs of potatoes (depends on number of people)
2 containers of Philadelphia Onion and Chive Cream Cheese
Milk, optional
Instructions:
Peel and boil the potatoes. Once cooked through, place in a large mixing bowl and mash with a hand mixer. Add cream cheese and mix until well blended. If the potatoes are too thick, add 1 tbsp of milk at a time until it reaches desired consistency.
That's it for me this week, check us out on Facebook and let us know if you made this and how you made it your own! Be sure to check us out on Youtube and follow us on Instagram as well to keep up on all of our delicious Halal recipes. Thank you from all of us Midamar!