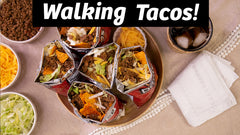 *Disclaimer: We have had some customers mention that doritos use porcine enzymes in their cheese. That claim is no longer correct please click here for more information.
Today we're making a Midwest favorite, the walking taco!
Now, the walking taco can be semi-divisive. Most love it, and there's not to love, but regional variants do exist. Here in Iowa, we usually use Nacho Doritos, a couple times I've tried the cool ranch, but I always have preferred the nacho cheese. In other parts of the Midwest, they use Fritos or corn chips, I haven't tried this myself, but I'm sure it's great. These different variants show the versatility of this recipe.
Much like all simple recipes, the walking is extremely customizable: type of chip used, toppings, etc. For example, I really like making an almost taco salad with mine. I crush the Doritos, add shredded lettuce, taco meat, tomatoes, and… ranch dressing. I know, I know, classic Midwestern move, but it is quite tasty. Anything you could put on a taco, burrito, enchilada, or chimichanga can go in a walking taco.
Just as the name implies, this is one of the best easy foods available. Easy to carry, easy to eat, easy to make another if your heart desires. I personally love this as an easy dinner after a long day of work, for family gatherings, for birthday parties, graduations, the list goes on and on.
All said, the walking taco is an essential recipe to know. And, to make a quick and easy recipe and faster and easier, we suggest using our Taco Seasoned Beef. This product is great for a variety of reasons, but to me, one of the best is that no thawing is needed. Just toss it in a pan or in the microwave and warm it up and you're done! It's pre-seasoned so the only thing you need to do is heat and eat.
That's it for me this week, if you want to check out how I made this click here to go to Youtube, or keep scrolling for the full recipe!
Ingredients:
1.5 lbs of Midamar Taco Seasoned Beef Topping
Sour Cream
1 can of Pinto Beans
1 can of Tomatoes and Green Chilies
16 oz Shredded Lettuce
10 oz Medium Cheddar, freshly shredded
Small bags of Doritos, Fritos, or other chips of choice
Instructions:
1) In a large pot or pan combine Midamar Taco Seasoned Beef with tomatoes and chilies and pinto beans. Cook over medium heat stirring occasionally until ingredients are incorporated and meat is hot
2) Serve with chips, cheese, sour cream, and lettuce and enjoy!
That's it for me this week, check us out on Facebook and let us know if you made this and how you made it your own! Be sure to check us out on Youtube and follow us on Instagram as well to keep up on all of our delicious Halal recipes. Thank you from all of us Midamar!