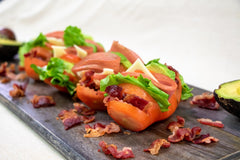 Who doesn't love sandwiches? In fact, I ate one from breakfast this morning! Sandwiches are classics, they're quick, they're easy, they're tasty, and they fill you up when you need a quick bite. But sometimes, we need to mix it up a bit, get a fresh take on something we love. And that's what we've got for you today!
First, what does it mean to "hasselback" something? This technique refers to placing evenly placed cuts along the top of an ingredient, without cutting all the through. The result is a visually appealing which also allows for other ingredients to infuse throughout the main ingredient. Normally, with a sandwich we have the bread and your various fillings. For this recipe, we wanted to make it a slightly more healthy version and remove the bread entirely. After that, it's as simple as taking your preferred sandwich toppings and stuffing them into the cuts of the tomato.
For us, that meant avocado, our Ethnic Treasures chicken bologna, some cheese, lettuce, and our Halal beef bacon. If you want to mix it up further, you can take our Halal beef pastrami and lightly fry it with some swiss cheese, caramelize some onions, and top the tomato with thousand island dressing to create a slightly healthier reuben.
Now, you may be thinking, "how is this going to taste like anything other than just tomato?" and we wondered the same thing. However, we did find that by adding cheese to almost every slice as well as lightly topping it with dressing or dipping it into dressing, something like Italian salad dressing or adding mayo, should help cut the strong taste of tomato. However, if you love tomatoes, you may find that you don't need the dressings. In fact, you may have just found your next favorite recipe since sliced bread ;) 
Either way, if you liked this recipe, let me know on Midamar's instagram post. If you haven't followed us there, make sure you do! We post all sorts of handy tips for cooking as well as teasers for the weekly recipes, condensed videos of how we made the weekly recipe, and so much more!